Smile 2 Smile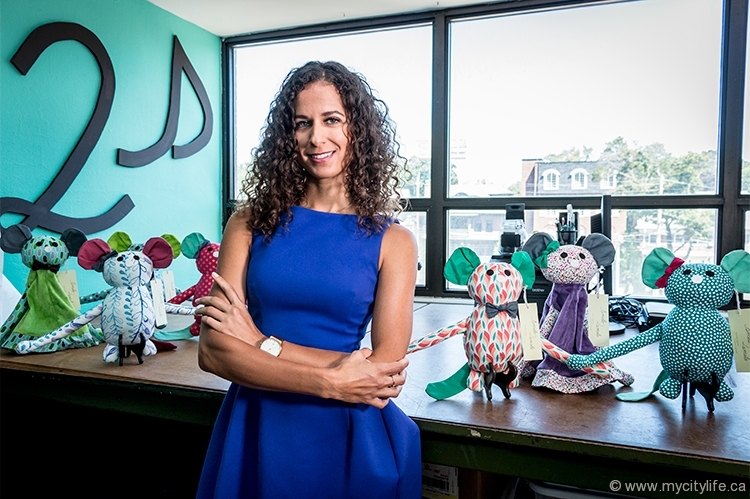 Meet Buddy, the plush toy that's teaching kids how to give back and bring smiles to children in need.
Plush toys aren't usually designed to be chucked into the air, dragged through the dirt or spun round and round in circles, but there's a new teddy on the block that appreciates these important snapshots of childhood and is happy to hang on for the ride. And his name is Buddy.
Mélissa Calixte, a former luxury menswear specialist based in Toronto, first created the plush and colour-coordinated mouse after hearing news stories about the devastation wrought by Syria's civil war. It was then that she realized her fashion skills could bring smiles to children in need. "I felt so touched by what the families [in Syria] were going through," says Calixte. "I had this urge to help but I'm not a doctor or an engineer. I'm a fashion designer. So I wondered how I could put my existing skills to good use."
Inspired by her own childhood teddy — the ultimate source of comfort — Calixte went to work sketching a toy that kids could befriend. Using scraps of fabric and countless stitches, she gave life to the first Buddy: with big ears for keeping secrets and long arms for giving comforting hugs, he was the perfect companion for any kid going through a tough time.
At first, Calixte hand-sewed every Buddy herself in her Toronto apartment, with the intention of donating a small collection to children in Syria. But as soon as Canadian parents caught sight of the little creature and reached for their wallets, Calixte recognized an opportunity for a social enterprise — a more impactful and longer-lasting concept than a one-time philanthropic endeavour. Smile 2 Smile was born.
I had this urge to help but I'm not a doctor or an engineer. I'm a fashion designer. So I wondered how I could put my existing skills to good use.
– Mélissa Calixte
Inspired by the business model of brands like Toms, Calixte implemented a "one-for-one" principle to her work, promising that for every one Buddy sold, one would be given to a child in need. In the spring of 2015, Calixte decided to shift the focus to Haiti, buying a small building there and hiring locals to take over the manufacturing process. This doubled Smile 2 Smile's impact, with the one-for-one model allowing Buddies to be gifted to children in need and the new Haitian headquarters providing financial stability for the five ladies and one man who work there.
"They can work in a dignified manner," says Calixte of her team, which feels like her second family now. "They're really empowered financially and that really trickles down to their community and their children."
Today, Calixte has big plans for Smile 2 Smile. She continues to design the Buddies herself, releasing two collections each year, and this fall is introducing a new line of teething rings. On top of travelling every two months down to Haiti, where she spends some quality time with her team, Calixte plans on more trips to different areas of need, one of which is the Inuit community in northern Canada.
While founding a social enterprise was never Calixte's original intention, she's found she's a natural at it, twining her colour-matching skills with her inherent love for putting smiles on kids' faces. And, the designer points out, when teaching your child about the importance of giving back, "adopting" a Buddy is a fun and relatable way to do that — for every Buddy sold, its doppelgänger is presented to a kid somewhere else in the world, facing their own, very different challenges.
"The kids understand it so quickly," says Calixte. "For them, it's a really simple thing — they have a friend that they might never see, but who has the same toy as theirs. And they can both play."
www.smile2smile.com
Buddies can be purchased at Shaye Collezioni in Vaughan. shayecollezioni.com
PHOTO BY CARLOS ARTURO PINTO