Fine Lines – Cosmetic rejuvenation procedure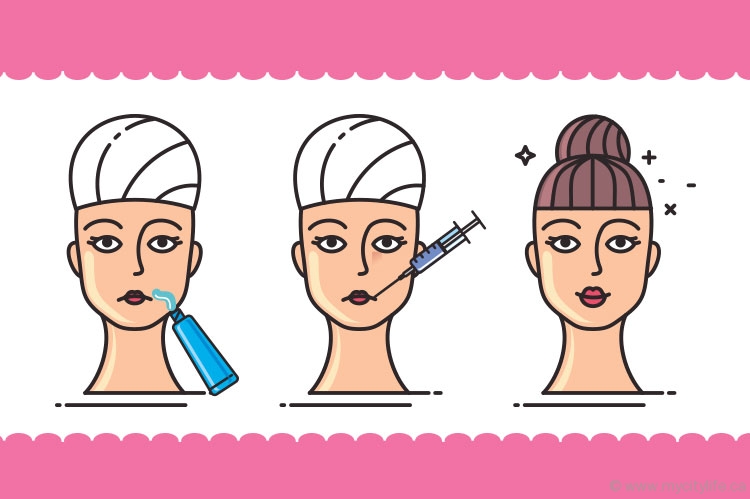 Why premature esthetic procedures in young people could lead to undiagnosed disorders and fuel less acceptance of normal human variation.
Injectables are quickly becoming the most popular treatment of choice for millennials at doctor's offices and medi-spas. In Vaughan alone there are dozens of establishments that offer neuromodulators (Botox) and fillers.
The latest survey by the American Academy of Facial Plastic and Reconstructive Surgery (AAFPRS) shows that 56 per cent of facial plastic surgeons saw an increase in cosmetic surgery or injectables with patients under age 30 in 2016 alone. It's important to note that there are no official plastic surgery statistics available in Canada. Interestingly, neither Health Canada nor the Canadian Society of Plastic Surgeons tracks any data.
Even so, it's no secret that a flashy social media culture has been the main proponent of plastic surgery and augmentation among this generation — most notably since the birth of the "selfie" in 2013, when the word was officially inducted into Oxford dictionaries.
Celebrities like the Kardashians were among the first to normalize things like lip fillers and Botox, and with nearly 60 per cent of Instagram users falling between the ages of 18 and 29, these messages are being absorbed by impressionable eyes.
---
Dr. Peggy Richter, head of the Frederick W. Thompson Anxiety Disorders Centre at Sunnybrook Health Sciences Centre, worries about the mental and developmental risk of young adults and adolescents who may have a mental disorder, such as body dysmorphic disorder (BDD), having easy access to these procedures.
The doctor's concern is that if these esthetic procedures are too easy to access, young men and women may jump the gun on procedures for variations in their appearance that in another five years they would have come to terms with. "I think it's impoverishing for the individual and the society, fuelling less acceptance of normal human variation," says Dr. Richter.
Most importantly, she stresses that there is a general lack of awareness and knowledge about mental health issues like BDD or obsessive compulsive disorder (OCD) in clinics administering these procedures.
"I think it's impoverishing for the individual and the society, fuelling less acceptance of normal human variation."— Dr. Peggy Richter
For example, individuals with BDD will commonly seek out and receive cosmetic treatments instead of psychiatric ones to correct their perceived flaws. According to the International OCD Foundation, cosmetic treatments are not recommended for this disorder since procedures rarely resolve the individual's preoccupation, and in some cases, they make symptoms worse.
"The problem is that the degree of training that these people have is highly variable, and certainly there is no mandate that people who get the technological certification to be able to do this in an esthetic clinic will have any training in mental health or any knowledge of the significance of this difficulty."
---
Currently, estheticians in Canada need only complete a certification course in order to offer Botox or fillers. "Plastic surgeons aren't trained particularly in psychiatry, but at least they've had medical training, including some general psych training," says Dr. Richter. "That's just not true of people who come at it from an esthetician perspective."
Cristina Jakimtschuk, director of Sherwood Village Spa in Mississauga, employs a real doctor for cosmetic procedures and says clients under the age of 21 make up only five to seven appointments per month, a tiny fraction of her mature clientele. Jakimtschuk believes this is due to the higher cost of procedures. Village Wellness Spas charges $12 per unit of Botox, whereas they're easily accessible for $8 to $10 in most other spas.
The director enjoys the peace of mind and expertise that comes with having a doctor on hand, and she doesn't mind being on the pricier side. "Our medical director and injector, Dr. Lam, is a professional, and he understands what the point of Botox and filler is; it's not meant to give you that overdone look, but to be a subtle enhancement," says Jakimtschuk. She adds that the spa will refuse a procedure to anyone whom they feel has had too much. "If Dr. Lam feels that his professionalism or the look of the work will be compromised, he won't do it."
---
Unfortunately, this is not true of many local establishments, says the spa owner. Jakimtschuk says she understands that it's very difficult for people to refuse customers these days, especially when there is such high competition — but it's all about maintaining your morals. "There are a handful of clinics that do use doctors and have the same values and mentality that we have, but I also feel like there are some who are in it for money."
So long as establishments continue to have procedures easily accessible to youth, Dr. Richter believes young adults are going to be much more focused on and much less accepting of minor variations from the ideal standard of beauty that we see portrayed in the media.