The Unstoppable Tom Hardy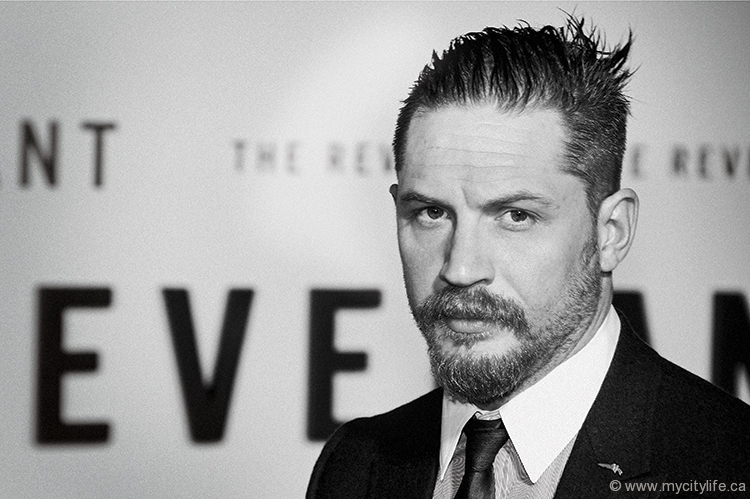 Not even 20-below temperatures could rein in Tom Hardy. Fresh off an Oscar nom, The Revenant star reflects on the year that solidified him as one of Hollywood's premier leading men.
It's been a big year for Tom Hardy and it keeps getting better by the month. In October, the British star became a father for the second time when his wife, Charlotte Riley, gave birth in London. In November, the film Legend, in which he plays two identical twin gangster brothers, the Krays, earned him rave reviews for his two-fisted performance. And in January of this year, Hardy returned to the big screen with the release of historical Western thriller The Revenant.
Directed by noted filmmaker Alejandro G. Iñárritu, who won Oscars for Best Picture and Best Director for Birdman last year, The Revenant co-stars Hardy alongside Leonardo DiCaprio as 19th century fur trappers battling each other and the elements in treacherous terrain in the Rocky Mountains.
After DiCaprio's Hugh Glass is abandoned and essentially left to die by Hardy's John Fitzgerald, the former goes on a quest for revenge against his partner. Based on a true story, the film is being touted as a Best Picture winner and sees Hardy, who's in the mix for Best Supporting Actor at this year's Academy Awards, and his fellow cast and crew members pushed to the limit in wintry, sub-zero conditions during the course of a gruelling nine-month shoot that took place in the wilderness regions of Alberta, Canada, and Tierra del Fuego in Argentina.
"I was pushed harder than I have ever been pushed before," Hardy recalls of the experience. "We shot in -20 C temperatures with snow and wind and ice, and it was the kind of thing where you wonder if you're going to make it out alive. I loved it, though, and I loved how Alejandro was committed to taking things to the limit."
That kind of adventurous, risk-taking bravado is what defines Tom Hardy's indomitable spirit. The 38-year-old actor is fast becoming one of Hollywood's top stars following his work on this summer's Mad Max: Fury Road that went on to earn nearly $400 million. Best known for his work in a variety of acclaimed indie features including The Drop, Locke and Bronson, he also made headlines with his Batman-killing performance as Bane in The Dark Knight Rises.
Hardy lives in London with his wife and their newborn baby. The couple first became romantically involved while working on Wuthering Heights in 2009 and eventually married in July 2014. Hardy is also a doting father to a son, Louis, 7, from his previous relationship with Rachel Speed.
THE INTERVIEW
Q: Tom, this has been quite a year for you. How do you put it all into perspective?
A: I just look for great stories and the chance to work with interesting people. I don't have a big plan and I don't even want to think about what it all means. I think of myself as an ordinary guy who has a great job. As an actor, I view myself as someone who gets to participate in the vision of incredible filmmakers like Nolan, Winding Refn or Iñárritu. The process of how they achieve what they set out to do fascinates me, and I love being along for the ride and being able to contribute as much as I can to the process.
Q: There's this contradiction between your screen image and your real nature. You play very tough characters but in real life you're very friendly and gentle and you're known for giving people hugs as a sign of that warmth.
A: I'm not a tough guy. I can be if I need to be but that's not my nature. A long time ago I discovered that fear played a big role in the way I reacted to things and that's why I would get into fights when I was younger. But it's so pointless and stupid. That's not the way I want to live. I still have that fear inside me but now I understand it and I can manage it. I don't let it dictate my behaviour anymore … I want to embrace everything that is kind and good in life. I want to be a good example as a father and be someone who is going to be a healthy and happy influence.
Q: There is a sense about you that you could explode if provoked, though?
A: Maybe there's still a sense of anger inside me and way back I could strike back if I was pushed sufficiently. But that kind of thing only gets you into trouble and once you've gotten into a certain position you just have to forget about that kind of stuff. Sometimes the perception that you might get angry can stop people from behaving in a way that you don't like. But the best thing is that directors might see that in me and ask me to play these characters where I get to pretend that I'm tough. But that's not who I am. I'm just glad to get the work.
Q: You've been working pretty hard as of late. First you spent nearly a year working on Mad Max and more recently the shoot on The Revenant lasted much longer than originally planned.
A: It was a much bigger beast than anyone expected. Alejandro has his own vision and he will do anything to achieve what he sets out to do. I admire that intensity and dedication — even though it sometimes drives you crazy.
Q: What drew you to the project?
A: It wasn't the idea of freezing for nine months that made me do it. [Laughs]. But I liked the novel by Michael Punke and the themes of survival and revenge. The story has an epic quality and you're taken into this struggle of man vs. nature, as well as two men fighting each other.
Q: Wasn't Leonardo DiCaprio responsible for bringing you on board the film?
A: [Laughs]. I was going to work on another film (Splinter Cell) but Leo called me and told me I was being an idiot if I didn't read the script and take a look at the story. Leo's a brilliant bloke, very dedicated and very tough.
Q: Many people are touting you as a major movie star now, and there's been a lot of Oscar buzz around your work in Legend.
A: I don't want to hear any of that talk. I never think of myself in those terms where I'm the star and someone whose name is going to bring in the audiences. I see myself as a character actor who has had the chance to play in some important films, and where some of those roles have been leads.
I'm not looking to play in blockbusters. They've happened more by chance and Mad Max was really the first big one for me where I play the lead. I enjoy doing the smaller films like Locke or London Road — I want to keep making different kinds of stories.
Q: Are you by nature drawn to extreme characters?
A: [Laughs]. I think a lot of directors see me as someone who is capable of playing extreme or tough characters. I can draw on extreme emotions when I need to and maybe some of that comes from my own experiences in life when I was much younger. I feel like I have a pretty normal life as a husband and father. I don't choose to play tough characters but I am very interested in the twisted psychology of human nature. That's why I wanted to play both Kray brothers. How can you not want to take on a challenge like that?
Q: Your work also reveals a very sensitive side to you at times.
A: Your flaws and doubts and vulnerabilities are going to be much more interesting and reveal much more of you than your aggressiveness. That's really a mask to prevent people from knowing who you are. I like being sensitive and emotionally available. I still remember the time I spent with James Gandolfini [on The Drop] and getting to know him. I will never forget how this big man who looked so intimidating was actually very sensitive, vulnerable and so kind in person. He was just a beautiful man.
Q: You're often spotted with a dog around you. What do you find most special about canines?
A: I've always loved dogs. I love the way they will stick with you and never leave your side. They are very loyal. I find that so beautiful about them; they only want to be part of whatever it is you're doing and they're happy just to sit at your feet because they feel that closeness to you. I'm a very loyal person myself and I have this pack mentality just the way a dog has. They want to belong, they want to attach themselves to you and be part of what you do. I just love dogs.
Q: You've been very open about some of the difficult times you went through as a young man. Does being an actor make it more complicated to lead a stable life?
A: Actors need anything they can find to find balance in our lives. You're constantly throwing yourself into characters with very different emotions and personalities and you often need to draw on very intense emotions of your own to be able to play those roles, which are sometimes violent and disturbing. You can easily lose your sense of reality.
Q: How were you ultimately able to ground yourself and find that balance?
A: I had to fight hard to find stability and become a better man. It takes a lot of work and perseverance and also the help of many good friends. Becoming a father also gave me a greater sense of responsibility. When you are responsible for another life you have to forget about being selfish and take care of your family and become the kind of father and husband you need to be.