Breaking the Ice With Elisha Cuthbert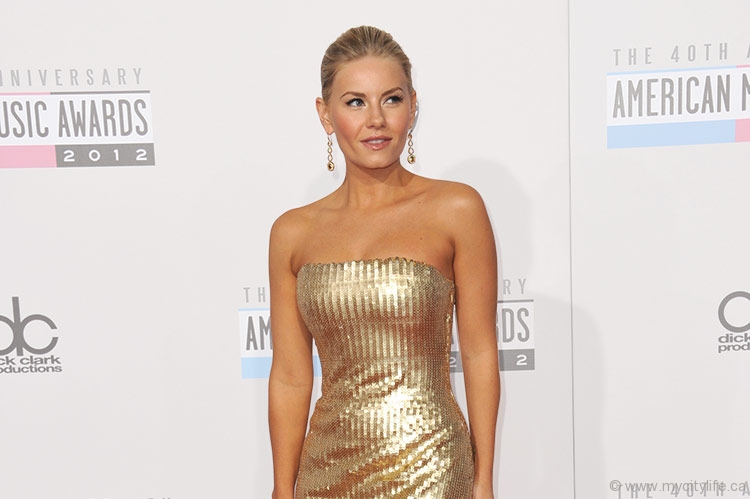 Elisha Cuthbert has the coolest job in the world. A darling of both the small and silver screens, the Montreal native turned heads in the likes of Love Actually, The Girl Next Door and 24 before landing a lead role in the smash hit Happy Endings, a sitcom telling the knotted-up tales of five friends finding their way through young adulthood and the streets of Chicago.
But what's equally as cool as the scripts, red carpets and award nominations of Cuthbert's career is her other role: She's wife to Dion Phaneuf, captain of the Toronto Maple Leafs and arguably one of the most adored names in Canadian sports.
Being a Mrs. is something relatively new for the actress (she and Phaneuf tied the knot in July 2013 after five years of dating), but in the few short months that they've been husband and wife, Cuthbert already seems to be chipping her way toward Spouse of the Year. She took some time off from her bustling professional life to support Phaneuf before the Winter Classic, an event that wooed even the most resigned of Leafs fans into dusting off their blue foam fingers and donning their jerseys in honour of the match.
Well, the Classic came and went in a successful (on the Leafs' end) and snowy blur, but the excitement for the pair hasn't stopped there. Her boy in blue just scored a major contract renewal worth $49 million, securing his title as captain of the Leafs for another seven seasons. It's a testament to Phaneuf's on-ice tact and finesse, which Cuthbert claims he leaves in the arena when he comes home after each game.
"With Dion, a lot of times the public sees the hockey image — the man in the uniform on the ice," says Cuthbert, who's almost as big a hockey fan as her husband. "But we're all different when we're working. We're focused — we put on whatever mask the job demands, and when we get home, we get to be ourselves."
It's this "mask-on, mask-off" thing to which she can undoubtedly relate, being in her industry. It's one of her and Phaneuf's many similarities that fuel their chemistry as one of Canada's "power couples."
"I can't speak [for] people [who] have been married for 20, 30 years, but we have our secrets to getting along," Cuthbert says when asked for tips on keeping a healthy marriage. "We have a lot of respect for each other — we're partners in crime and in life. He's my best friend."
As Cuthbert prepares to glide back onto Hollywood's centre stage, we wait to see what charms she works on us next — whether it be through a sparkling onscreen performance, a red-carpet smile or simply cheering with the rest of us as the Leafs shoot for the playoffs.