Team 2000 Realty Inc. Brokerage: Recruiting & Grooming Talent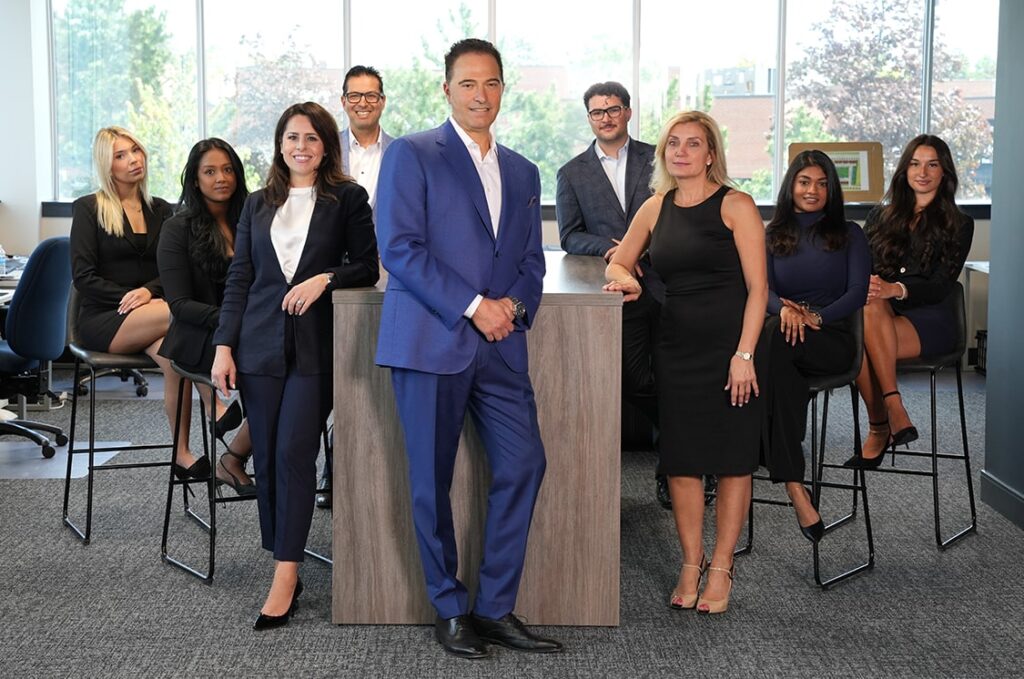 Team 2000 Realty Inc. Brokerage celebrates 25 years of success, but they are only rolling up their sleeves.
Tony Bova, President and Broker of Record of Team 2000, has been around the block. After 35 years of experience in the real estate industry, he and his self-motivated team's desire to serve communities across the GTA and the Golden Horseshoe region remains strong and unmatched.
Bova and Sales & Marketing Director Stefanie Cooper graced City Life with an invitation to join them at their head office in Vaughan, where they shared their plans for the next 25 years of success. Their mantra is simple — it all starts with the team.
"Staff is a big part of our success. We've promoted internal employees who we've taken the time to groom. We're a dynamic and driven team with lots of experience behind us. But with the amount of work coming in, we want to acquire new salespeople," says Bova.
Honesty, willingness to work hard, loyalty and motivation are the qualities that Team 2000 Realty looks for because those are the pillars on which the brokerage was built. They take great pride in cultivating honest and long-term relationships with their clientele.
"We make relationships. You buy a home from us. You're going to come back and buy another home from us. You're going to refer your friends and family to come talk to us. We will take care of you and guide you in the right direction," says Bova.
How do they stand out from their competitors? Team 2000 is a boutique full-service real estate company that gets involved in every facet of the sales process. From scouting undeveloped land to working closely with builders and finalizing designs based on the community to packaging effective strategies with the marketing company, Team 2000 happily positions itself to serve you every step of the way.
Despite being in an industry where active business is measured by market conditions, Team 2000 Realty has remained one of the top five brokerages in Southern Ontario for the past 25 years. How? Because they love what they do.
"Dedication is what our staff has, and these are the people we're looking for. Anyone who walks in the door, we will give them the opportunity. If they invest in us, we're going to invest right back in them. We become this intertwined team where nobody is above or below anybody. We all have an important role to play," says Cooper.
When the COVID pandemic struck, Team 2000 Realty adapted to new business practices to effectively provide its services, since the safety protocols prevented salespeople from selling on site, i.e., in an office/sales centre. The team instilled confidence in their clients by walking them through every step of the process and delivering all the information for them to make an informed decision. "We were so successful that, just in the town of Erin, we sold 420 houses in eight days, all virtually," says Bova.
"DEDICATION IS WHAT OUR STAFF HAS, AND THESE ARE THE PEOPLE WE'RE LOOKING FOR. ANYONE WHO WALKS IN THE DOOR, WE WILL GIVE THEM THE OPPORTUNITY. IF THEY INVEST IN US, WE'RE GOING TO INVEST RIGHT BACK IN THEM."
They have helped their clients brand themselves by giving them dedicated sales professionals and administrators who adopt their vision and brand. As a result, they have been able to mould long-term relationships between their clientele and sales teams. Their clients never look for another option because they do not need to. In fact, Team 2000 has sales members that have represented the same clients for over 20 years.
With a track record of over 25,000 homes sold working with 30+ builders at more than 250 different new-home projects across Southern Ontario, their team is simply effective. Young and seasoned salespeople can sell virtually or in person, and the mentorship and support supplied by the work environment nurtures the skills that both methods require. Their success is defined by their staggering sales performance, but it is also a reflection of the time and effort that they have dedicated to serving their many communities.
But do not judge them based on their wins — judge them on their losses, because they have so few. Here at Team 2000 Realty careers are made, hard work is rewarded, and success is celebrated.
7611 Pine Valley Dr, Woodbridge, Ont.
416-746-2999
www.team2000realty.com
@team2000.realty