Docking at Hudson's Bay – Designer Brian Gluckstein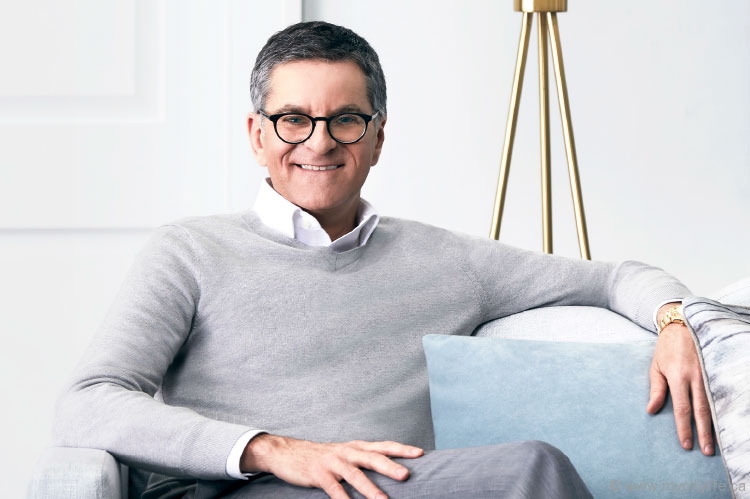 World-famous designer Brian Gluckstein speaks about his new position and regales with tales of design trends.
interview By michelle zerillo-sosa
Internationally recognized as one of the top 35 designers in the world by Andrew Martin's Interior Design Review journal, acclaimed designer Brian Gluckstein is known for creating luxurious, livable interiors.
After graduating from Ryerson University's prestigious Interior Design degree program, he started GlucksteinDesign in 1986. The firm has won numerous awards for design excellence, including ARIDO Awards for Excellence in residential, commercial and corporate design and the National Association of Home Builders Awards for Excellence in sales office and model design.
Gluckstein has been announced as the new Home Design Ambassador for Hudson's Bay. For the past 15 years, Gluckstein has built the GlucksteinHome brand at Hudson's Bay, and now he will be able to offer his expert eye to inspire customers.
"We are thrilled to continue our important relationship with Brian Gluckstein as our new Home Design Ambassador," says Alison Coville, president of Hudson's Bay. "We want our customers to feel inspired to create the home of their dreams. Brian's impeccable sense of style, his approach to interpreting trends for our customers and, of course, his incredible charisma make him the ideal fit to speak to our curated selection of the very best for every room in the house," she says.
"For me, Hudson's Bay is about the best of the best, available at all price points," says Gluckstein. "Having a greater role as Home Design Ambassador is a natural evolution for me. I'm excited not only to continue to design my own collection, but also to communicate Hudson's Bay's overall vision and promote good design across the entire home category."
City Life asked Gluckstein a few questions about design and decorating mistakes, and here is what he had to say.
"For me, Hudson's Bay is about the best of the best, available at all price points
Q: What are some home décor and design trends you would like to share with us?
A: There is a big trend toward velvet. I love coloured velvet upholstery, because it changes with the light and is so beautiful and rich.
Patterned dinnerware is also a great trend, because we're going back to entertaining at home and setting a very personalized and glamourous table. Mixing and matching patterns on the table feels very fresh and eclectic.
Q: What are some things one can invest in to make their home feel fresh and welcoming?
A: An easy way to make your home feel fresh and welcoming is through colour with paint. Art is also important because it gives the home soul.
If you're having overnight guests, beautiful bedding will make them feel special. Comfortable seating is also important for entertaining.
Q: Why is the partnership with Hudson's Bay an exciting project for you?
A: The partnership with Hudson's Bay is exciting, because it's an organic evolution and expansion of my role. I love designing our GlucksteinHome products for them, and now, as Home Design Ambassador, I'm involved in the creative aspects of all [home design products] at Hudson's Bay.
Q: Finish this sentence for us: To make sure a house feels like a home, one must do the following things …
A: Be relaxed. When entertaining have comfortable, intimate seating areas.
Q: Tell us about some of the home furnishings that are part of your collection that most excite you.
A: I have a bedding collection called Rhodes, which is a classic Greek key embroidered motif, and it's been a perennial favourite that we've just introduced in white for spring. I have the champagne and grey colours at home, but I'm very excited about the white.
Our new GlucksteinHome cotton-linen bedding collection is wonderful all year-round but in the summer it adds a relaxed European approach to the bedroom that I just love.
My Brian Gluckstein by Lenox dinnerware collection is exciting and fun, because it gives me the chance to create striking patterns for a cool and glamorous table.
And I always embrace summer, because it's an opportunity to create an additional living space by extending the indoors outside with great patio furniture and accessories. This year, we have a modular conversation set that can suit any outdoor area and a fabulous three-piece bar for entertaining.
Q: Define comfort. Define style.
A: Comfort is warmth. I think of comfort in terms of physical comfort (a great sofa, comfy chairs) and also the comfort of a relaxed host who is uninhibited in their entertaining, with delicious food and drinks and lively, engaging conversation.
Style is a personal expression of what one finds beautiful.
Q: Tell us about three things every home should have.
A: A comfy sofa to stretch out on and read or watch movies.
Art and books throughout the home, to show your personality.
A really comfy bed, with a great duvet and beautiful bedding, to extend the weekends by reading the paper, scrolling through Instagram and having breakfast in bed.
Q: What is the No. 1 mistake made by homeowners who want to decorate on their own?
A: Scale. People often go too big or too small with their furniture, and it isn't proportionate to the room.
Q: One of the best places you've discovered in the city to unwind and feel at home?
A: My garden pool in the summer.
Q: Where do you go to recharge?
A: Palm Beach and New York. Palm Beach to relax and New York to energize, depending on which I need.
Q: Best book or movie you read or watched last year?
A: I watch a lot of black-and-white films from the '30s and '40s all year-round on Turner Classic Movies. I read The Goldfinch last year and really enjoyed it.
Q: What is on your night table right now?
A: A biography on Cary Grant and The Vanity Fair Diaries by Tina Brown.
Q: What is your favourite colour palette to work with and why?
A: It depends on the client. I'll use a more subtle palette or a more dramatic palette depending on their personality, the environment of the home, their art collection and the climate (Palm Beach versus Toronto versus Aspen).
For myself, I prefer a neutral palette at home, because I spend all day with colour, texture and fabric, and I need the visual break when I get home.