New Burger on the Block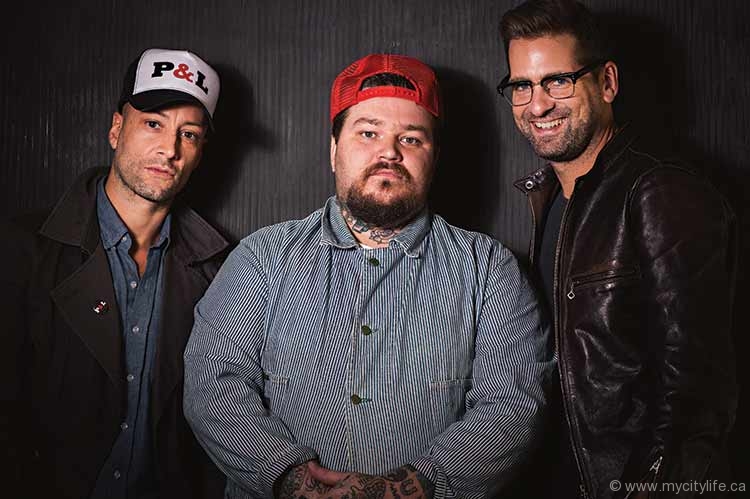 What do you do after winning the title of best hamburger in Toronto? You open a burger joint, obviously.
That's exactly what the Parts & Labour team did after claiming the crown of Toronto's best burger on CMT's reality TV show Burger Wars. Their seven-ounce P&L burger — topped with dill-mayo, bacon-onion jam, iceberg lettuce and Monterey Jack cheese — beat out the beef-and-bun offerings of city favourites Burger Priest and Dangerous Dan's. And burger aficionados flocked.
With demand rising faster than Rob Ford's stress level, P&L co-owners Richard Lambert and Jesse Girard grabbed their head chef Matty Matheson, the man behind the illustrious burger, and moved east along Queen Street West to launch their burger-only spin-off. Aptly named The P&L Burger, this hipster version of the classic malt shop is hard to miss thanks to the conspicuous glow of its bulb-lit, retro signage. Much like the burgers served, its décor is simple but with a shot of flavour, thanks to striking accents, such as a black-and-red "P&L" and demonic Mayor McCheese doppelgänger that overlooks the long, narrow diner. There are seven burger options (one vegetarian, The Big Tempeh, for beef abstainers), an assortment of sides (fries, poutine, onion rings, kale Caesar salad, etc.), soft drinks, milkshakes and soft serve ice cream available.
Each burger comes as is, but that's just fine, as each is unique enough to satisfy an eclectic range of palates. From timeless numbers like The Hamburger and The Deluxe (P&L's take on the classic American cheeseburger), to more modern concoctions, such as The Philly (basically a Philly cheesesteak burger) and the mozzarella and marinara-topped The Italian, there's plenty of variety to sink your teeth into. Of course, the signature The P&L is available too, and as the moniker suggests, it's a must-try — the strong, smoky flavour of the bacon-onion jam is balanced beautifully with the tangy and creamy dill-mayo.
Girard and Lambert operate The Social Group, which also runs The Hoxton and The Dog and Bear. When they set up P&L, Girard explains, putting Matheson at the kitchen's helm was an obvious choice. "There's a mutual respect," he says. "We've invested a lot of time and money and energy into building the relationship with Matty … as you can hear, he's a real character. He's a personality. Beyond that, though, he's a great chef."
When approaching this new venture, Matheson, who also ran the kitchen at Le Select Bistro and Oddfellows, wasn't looking to create anything too out there. "I just wanted a really good burger base and tasty toppings," he says. The stocky, tattooed-covered East-coaster adds that everything — the double-ground beef, the P&L sauce, etc. — is made in-house. "I hope customers feel like they got their money's worth," he says. "I just want people to feel at home. Come in, get a burger and get fed."
www.partsandlabour.ca
507 Queen St. W., Toronto
416-603-9919