The Sweetest Pairing – Italian wines
LCBO introduces Woodbridge to Destination Italy, a specialty store carrying the best in imported vino.
The beginning of the New Year saw the opening of the much-anticipated LCBO Destination Italy specialty store, located at 8260 Hwy. 27 in Woodbridge. It boasts the largest selection of Italian wines and spirits available in a single store outside of Italy. There are some 500 unique products available only at this location, and it even has its own product consultant, Jo-Anne Casselton Kuhn.
Casselton Kuhn studied under such wine aficionados as Master of Wine James Cluer and WineAlign writers David Lawrason and Sara d'Amato. She has also achieved accreditation with the Wine and Spirit Education Trust (WSET), among other certifications.
"The fabulous thing about Italy is that there is no shortage of wine or wine styles to pair with any cheese or entrée you can imagine," she notes.
"We all know that Tuscany is famous for Chianti, and that it is one of the most food-friendly wines in the world, but what about the little-talked-about Vin Santo?"
And with that, she offers a primer on where to get started with Italian wines. Fermented for three-plus years in small oak or chestnut barrels, dried white Trebbiano and Malvasia grapes will oxidize and take on a burnished amber colour with almond and caramelized flavours on the palate, she says of the Vin Santo.
"The fabulous thing about Italy is that there is no shortage of wine or wine styles to pair with any cheese or entrée you can imagine"
"This sweet 'holy wine' would pair well with most strong cheeses, but for a real magical experience, try it with caramelized onion cheese," Casselton Kuhn says. "This cheese has an element of sweetness along with the obvious caramelization of the onions that matches the elements of this wine perfectly."
Don't forget to also try the Vin Santo with almond biscotti. "It also works well if you deglaze your pan with it when you are making your chicken liver pâté," she advises.
For a completely different experience, why not try the most amazing, mouth-filling Pinot Grigio around? "La Tunella Pinot Grigio from Friuli is a tremendously fragrant white with notes of peach, apricot, honeysuckle and lime," Casselton Kuhn says.
"It finishes long and silky and is more full-bodied than any Pinot Grigio or Pinot Gris that I have ever enjoyed."
Her suggestion is to pair La Tunella Pinot Grigio with white stilton and apricot cheese. "The fruit flavours in the wine will accentuate the fruit in the cheese and the beautifully balanced acidity will cut through the creaminess." This unique Pinot will also lend itself well to any seafood dish, such as grouper or scallops.
One more wine that needs to be highlighted here is the all-but-forgotten Schioppettino grape from Friuli. Again brought to us by La Tunella, this black grape is very rare and few are exported to North America.
It is a difficult vine to grow and very few producers even bother. But the Woodbridge store carries this wine, in which one can enjoy notes of bright, fresh black cherries, vanilla and pepper. "It is truly a gem when paired with Parmigiano-Reggiano from Parma, or any of the BellaVitano cheeses from Wisconsin."
Both types of cheese boast a strong, sharp and salty savouriness that, in Casselton Kuhn's opinion, "screams out for this well-balanced, complex and silky red. It goes without saying that this wine would also complement any grilled beef or tomato-based pasta dish."
For a truly rich and diverse Italian wine and spirit experience outside of Italy, visit the Highway 27 Woodbridge location of the LCBO.
---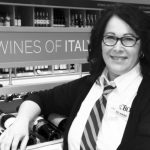 Jo-Anne Casselton Kuhn,
LCBO product consultant