#FarmersProtests For India's Majority Population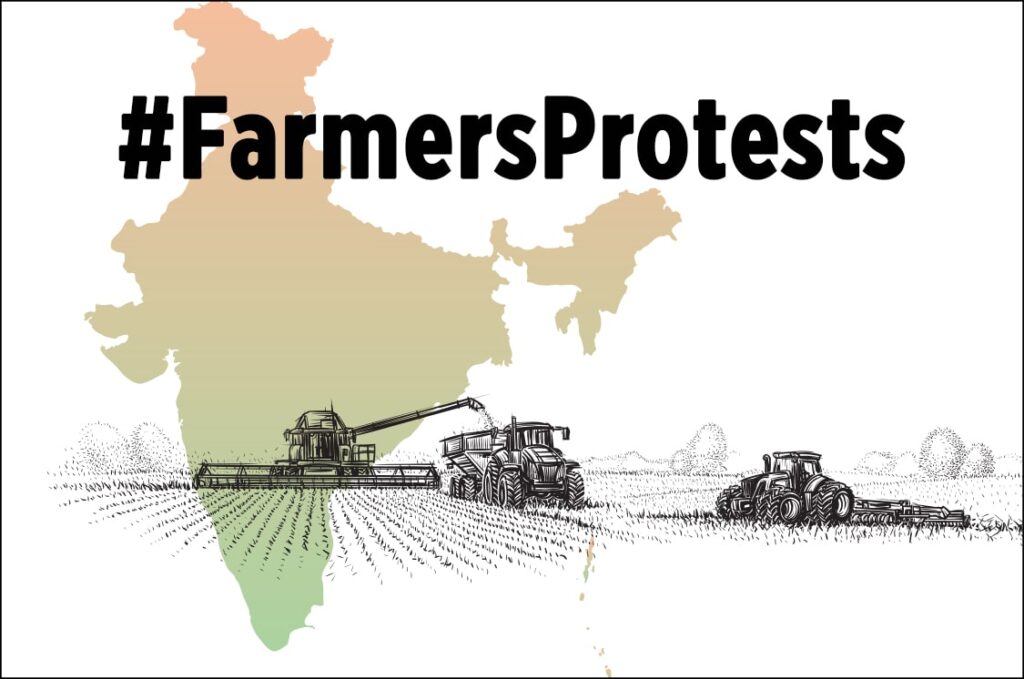 New agricultural laws in India — a country situated thousands of kilometres away from Canada — have sparked protest rights across this country: rights that call for fair and equitable farming practices.
It has been billed as one of the largest protests in human history, and there are no signs of it letting up. And interestingly, what hundreds and sometimes thousands of Canadians have been protesting against is a situation that is happening in India, a country that is 11,500 kilometres away — about a 12.75-hour flight from here to there.
Exactly what are the issues in India that are sparking such concern for Canadians, and why is the situation resonating so strongly within so many diverse communities?
In a nutshell, the concerns of the farmers — in fact, most workers in the agricultural sector in India — boil down to three new agricultural laws that the Indian government pushed through Parliament in the last year. These are: the Farmers' Produce Trade and Commerce (Promotion and Facilitation) Act, 2020; Farmers (Empowerment and Protection) Agreement on Price Assurance, Farm Services Act, 2020; and the Essential Commodities (Amendment) Act, 2020.
Acting in the dated colonial-era way of bypassing procedures, the Indian government subjectively pushed agricultural bills in 2020 that inherently altered the fundamental tenets of the current farming sector in India. In fact, farmers are worried that the socioeconomic heartbeat of the country will be and is being impacted by these new reforms. That these bills were rushed through by the government and did not follow the normal democratic processes concerns farmers, supporters and protesters in that they feel they were not consulted; nor did they have any input into something that concerns their main and often only livelihood.
Also, these new laws are seen by farmers as a way to deconstruct the Green Revolution, a system that had been in place since the 1960s. Under that structure, farmers were granted agricultural subsidies that included pesticide and irrigation assistance, which, in turn, nurtured a high level of self-sufficiency in food supplies.
What is highly concerning is that 75-80 per cent of the people in India, approximately 800 million people in total, depend on agriculture for their livelihood, which makes the future of India's economy an alarming economic issue of concern, both at home and on the world stage.
A comparison of other country's sector income accountability by the World Bank collection of development factors shows that only 1.421 per cent of Canadians (270,000) were employed in the agricultural sector in Canada in 2020 (a number that includes 55,000 temporary workers). In the United States, farmers and ranchers make up just 1.3 per cent of the employed U.S. population (approximately 2.6 million people).
"The majority of the people in India still work in the agricultural sector," confirms Jaskaran Sandhu, who is a board member and an executive at the World Sikh Organization of Canada, which is doing a lot of advocacy work for families and friends who are involved in the protests, providing assistance and demystifying what is going on with the farmers in Delhi. "A lot of the demonstrations and protests that you see blockading entrances over the last six months are from Punjab and Haryana, two northwestern regions in the subcontinent of India. They also have a large representation blockading areas outside of India's capital of Delhi."
To add to the unrest, within these protesting groups, another level of dissension has arisen, with the farmers from the northwestern regions being tagged "rich farmers" by agricultural workers farther south, who are much poorer and struggle for every rupee.
What is at stake here, not only for the people of India but also for consumers globally (India ranks No. 2 in worldwide farm output) is that with the new reforms, farmers feel that it is becoming not worth their time and effort to farm. (Canada imports goods such as spices, lentils and rice from India). Up until now, there has been a basic tenet in place, which is referred to as Minimum Support Price (MSP). This precept fundamentally guaranteed farmers a basic income from their crops, but the government has now done away with this system. This is forcing farmers to negotiate with corporations, whose vested interests are at a whole other level of power and control.
"There have been calls for reforms for decades, but the government disregarded those earlier reforms and have now pushed through their own reforms, ones which the farmers were not asking for," Sandhu says. "Normal grievances and legal processes have been done away with, and, as a result, farmers are claiming that the odds have been stacked against them in favour of large corporations. Farmers are fearful of their livelihood, being bullied out of the marketplace and not being able to dictate or implement fair prices. Most Indian farmers are marginal farmers and hold only a minimum few acres. They do not have the means to compete against or fight against large wealthy corporations, and they no longer have the guarantee that they used to, which is highly problematic. That is the gist of the issue and what everyone is protesting."
When you look at the real numbers around the income that is being earned by these farmers it certainly gives one pause. The current average yearly income for a farmer in India is Rs ₹77,124, which translates into C$1,333.65. Monthly earnings are estimated at Rs ₹6,427, which is C$111.14. A whole crate of tomatoes is currently being sold for 40 rupees (C$0.66), a mere fraction of what a coffee costs at your local Starbucks.
So, why are affluent, well-fed and cozily housed Canadians, who are thousands of kilometres away from the situation, supporting these Indian agricultural workers?
"Everyone knows someone who is involved in the protests," Sandhu says. "People have connections to back home."
A 2020 Forbes magazine article written by Stuart Anderson states that the number of people from India obtaining permanent residence in Canada has doubled since 2016. In 2019, 80,685 people from India were admitted as permanent residents to Canada, a 105 per cent increase from 2016, when the number was 39,340. (Source: National Foundation for America Policy (NFAP)).
"If We Keep The Pressure On In Canada, It Will Help Ensure That Family Members In India Are Staying Protected And Staying Safe, Because The World Is Watching. It Really Shows Just How Small The World Is"
In fact, in the region of Peel, which is made up of Mississauga, Brampton and Caledon, India is stated as being the top immigrant birth country at 25.7 per cent of the population. It is a population that includes large groups of young people who are both willing and open to embracing protests in the name of effecting a positive shift in the paradigm. And because these youth are expressing their solidarity with the Indian farmers by way of their involvement in the #FarmersProtests, Sandhu has been offering these young people free legal counsel if they run into trouble with authorities at the protests.
"These youth are working hard to bring awareness and international scrutiny to what is going on in India, which is important because there has been a lot of police brutality and state violence there during these protests," Sandhu says. "If we keep the pressure on in Canada, it will help ensure that family members in India are staying protected and staying safe, because the world is watching. It really shows just how small the world is."
The goal of the #FarmersProtests rallies here in Canada is centred primarily on garnering international scrutiny around the plight of farmers in India.
That goal seems to be working.
"Prime Minister Justin Trudeau spoke out in favour of the protests, and we have garnered a lot of support from local politicians," Sandhu says. "As mentioned, India is known to have state-sponsored violence, so scrutiny is important."
There have been approximately 600 farmers who have died in the last nine months – mostly in the Delhi area. These deaths are attributed to a combination of exposure to the elements and what Sandhu says is the result of injuries due to state violence.
"I don't see this situation ending quickly. The government in India, contrary to popular belief, is not very democratic, and I don't see them bending quickly or easily. And, while farmers say that if these laws stand there is no point in farming, it is also clear that they are not giving up," Sandhu says.