Top 10 Romantic Restaurants in the GTA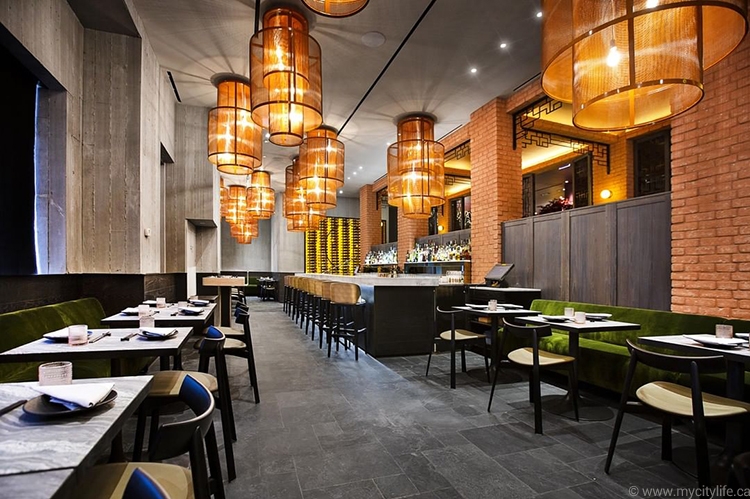 Lists are subjective, especially when it comes to restaurants, and then they can be downright dangerous. Undeterred, City Life offers up its suggestions (in alphabetical order) for an intimate evening of splendid dining, in varied surroundings offering different cuisines. Lovebirds rejoice!

ALO – 163 Spadina Avenue, Toronto
Consistently ranked among the best, if not the #1 restaurant in Canada since its opening in 2015, Alo is a contemporary French restaurant styled in a chic and sophisticated way and perched atop a heritage building at the edge of Toronto's Chinatown area. A special and intimate evening can be had here as you spoil yourselves while experimenting with a blind tasting menu that highlights the finest in seasonal ingredients, or enjoying the adjacent bar offering classic cocktails and an a la carte menu.
www.alofoodgroup.com


ANTLER KITCHEN & BAR
– 1454 Dundas Street West, Toronto
An ideal spot for hand-holding or playing footsie, Antler is a casual celebration of Canadiana, using regional ingredients to define Canadian cuisine while highlighting local, seasonal and wild foods. Here in the centre of the metropolis you can explore your wild side and get back to your rural roots. Its varied menu of meats, game, and root vegetables represents an authentic creation based on the many wild culinary delights of Canada.
www.antlerkitchenbar.com
AVENUE CIBI e VINI RESTAURANT
– 10519 Islington Avenue, Kleinburg
This chic Italian restaurant has been raising the bar in hospitality as the go-to spot in Kleinburg since its opening in 2009. Owner Mauro DiLauro's passion for food and service shines through with a menu offering select cuts of USDA prime meats, Ontario-raised lamb, wood-fired-oven pizza and market-fresh fish and seafood imported from the Mediterranean. With an extensive wine cellar, Avenue Cibi e Vini elevates fine dining in Vaughan.
www.avenuecibievini.com
DANDYLION
– 1198 Queen Street West, Toronto
A secret amongst foodies and savvy, in-the-know urban tastemakers, its simple design is what gives this small room seating approximately 30 diners its vibe along with a distinct and palatable sense of exclusivity. Chef and co-owner Jason Carter (who trained and worked with both Susur Lee and Marc Thuet) creates a simple menu of some of the best food you will ever taste. Succulent meats with perfect seasoning and beautifully prepared vegetables highlight the short menu. Because sometimes, if it's perfect, you don't need anything more.
www.restaurantdandylion.com
JOSO'S
– 202 Davenport Road, Toronto
If it's intimacy and sensuality you both crave on a romantic evening, look no further than Joso's – when you're not both staring at the erotic artwork and statues which adorn it. A landmark of Toronto's restaurant scene, this classically warm, two-storey neighbourhood Mediterranean seafood oasis oozes love, and has been transplanting diners to the warmth and beauty of the Dalmatian coast for more than 50 years as they enjoy perhaps the finest and freshest seafood offered anywhere.
www.josos.com
PLANTA QUEEN
– 180 Queen Street West, Toronto
PLANTA YORKVILLE
– 1221 Bay Street, Toronto
You can spoil each other while still doing something good at the same time. Planta was opened with the purpose of creating delicious food that promotes environmental sustainability. Under Chef David Lee, Planta celebrates innovative cuisine in beautiful environments without the use of any animal products. Here is a delicious menu of responsible plant-based eating using high-quality products from ethical suppliers. You can use the passion of the chefs to fuel your own.
www.plantarestaurants.com
SCARAMOUCHE
– One Benvenuto Place, Toronto
If you are in the mood to dress up and wear your finest jewelry to celebrate your love, then Scaramouche is the perfect environment. Tucked off the Avenue Road hill south of St. Clair, this romantic and sophisticated enclave offers the best views of the city in providing the ultimate memorable evening for two. Exceptional service, beautiful food and an outstanding sommelier handling its 200-bottle wine list add to the candlelit atmosphere. For more relaxed dining, try the adjoining Pasta Bar & Grill, a neighbourhood favourite.
www.scaramoucherestaurant.com
SOOS TORONTO
– 94 Ossington Avenue, Toronto
A non-descript secret hideaway opens to a world of sensory pleasures offered by modern interpretations of Malaysian street food. Here is exotic eating and complex flavours served in humble, yet romantic surroundings by chefs who incorporate Malay and Nyonya cuisines into popular staples with a twist. To eliminate the guesswork and just gaze into each other's eyes, order the "Feed Me" selection from the menu: a never-ending series of small dishes meant to be shared so you can enjoy each other.
www.soostoronto.com
SOFIA RESTAURANT AND BAR
– 99 Yorkville Avenue, Toronto
Put some fun into your romance with a table for two at Sofia in the heart of Yorkville. This dramatic and lively environment is exquisitely designed with plush velvet seating, sparkling chandeliers and an internationally acclaimed art collection. It offers a fresh perspective on classic Italian cuisine and tastes that explode with pleasure. With live music complementing the food and excellent wine list, Sofia both satisfies and stimulates – a perfect recipe for romance.
www.sofiayorkville.com
TERRONI
– 57 Adelaide Street East/720 Queen West/1095 Yonge Street, Toronto
In a classic celebration of traditional Italian cooking, the three locations of Terroni have long been cherished as perfects spots for a lingering table for two, with fabulous wine and great food. Owner Cosimo Mammoliti is acknowledged as one of the masters of Italian fare with his mantra "Materia Prima," the simplicity and quality of the ingredients, which is the soul of the restaurant and the essence of Terroni. With the perfect ambience and just the right buzz, Terroni never fails to exceed your dining expectations.
www.terroni.com