The city of Vaughan is working its way through COVID-19, as it attains a positive foothold in life's 'new normal'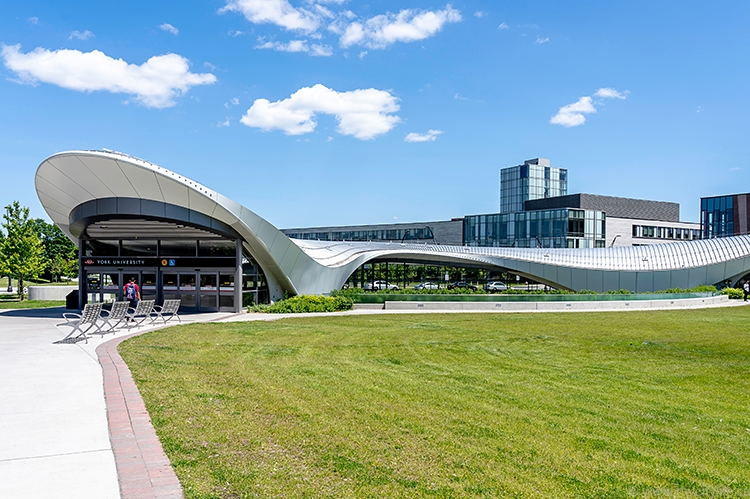 The initial triggers around the exponential rise of the COVID-19 coronavirus were attributed to the travelling public. Ubiquitous and affordable travel, especially during Canada's cold winter months, commonly generates a significant flow of airline travel to myriad southern destinations. Also, the annual trek of Canadian snowbirds to the southern United States is a virtual rite of passage for many retirees.
"There are over 400,000 people who cross the Canadian–United States border on a daily basis," says Dr. Karim Kurji, medical officer of health for York Region, Ont. "Of course, this was prior to all of the virus restrictions being put into place. We had a lot of Canadians return from the States with mild symptoms of the virus. Many people from Vaughan, Ont., who travelled might have had some initial symptoms that were originally identified with the virus — fever, coughing and shortness of breath — and were unaware that it might have been the coronavirus," says Dr. Kurji. "As we got to learn more about the virus, the symptoms complex ran the gamut from runny noses to body aches, muscle pain, sore throats, and in some cases, diarrhea. So, people who didn't have the stated first symptoms, might have been missed."
"It is important to maintain an indomitable spirit." — Mayor of Vaughan, Maurizio Bevilacqua
Vaughan's Mayor, Maurizio Bevilacqua, attributes, among other factors, the international nature of the city as the reason why Vaughan is a "hot spot" for the coronavirus. "COVID-19 is a pandemic, and Vaughan is an international city," says the mayor. "Vaughan is a city where 105 different languages are spoken. The community spread of COVID-19 reinforces my ongoing message to practise physical distancing, good hygiene and to stay at home. Knowing the importance of maintaining physical distancing, we acted decisively," he says. "We were the first city in the province of Ontario to declare a state of emergency; we monitored COVID-19 for six weeks prior to when the World Health Organization (WHO) declared it to be a global pandemic; we were one of the first municipalities to close the parks and amenities, libraries, city hall, community centres, and we did that very quickly," clarifies the mayor. "Recently, I announced that we would be moving our Canada Day celebration online to further protect the community and keep Vaughan citizens safe. All of our analysis led us to believe that this was going to be a challenging period, and inaction was not an option."


The initial directives for best protocols to manage personal health were clear: strict handwashing for 20 seconds several times a day, not touching your face and disinfecting household surfaces regularly. Of course, testing for the virus was also at the top of the list, but like the rest of Ontario, York Region had to prioritize the people and the segments that were most vulnerable to contracting the virus, which included people in long-term care, health-care workers, etc. This meant that the general public could not easily access testing if they didn't fall into one of the priority groups.
"A person could not get tested if they hadn't travelled, didn't have a chronic condition or didn't have the original stated symptoms," says Dr. Kurji. "Some of the York Region assessment centres left it to the doctor's discretion as to whether or not to test based on the province's direction."
Test assessment centres in York Region for the novel coronavirus are located in the Markham Stouffville Hospital, Southlake Regional Health Centre and Mackenize Health. A person seeking testing fills out a questionnaire at the assessment centre. This information is then used if the test result is positive, so that high-risk people can be identified and treated accordingly. "It is best for people to know their diagnosis. If their condition worsens, they should call 911 to seek appropriate care in the hospital," says Dr. Kurji. "A person who tests positive at one of our assessment centres will get a letter after the 14-day self-isolation protocol, informing them that if they have no virus symptoms, they are free to come out of self-isolation."
When York Region's testing sites first opened, there were approximately 300 tests done per day at the three hospital assessment centres. Those numbers fell off due to the significant backlog at the provincial level. However, two weeks ago, York Region's testing ramped up again.
"At that point, the backlog was clearing, so we encouraged people who felt they were experiencing symptoms to go to one of the self-assessment centres, rather than take the online assessment," Dr. Kurji says. "We are encouraging people who are experiencing mild symptoms to avail themselves of the assessment tool and to self-isolate," he says. (The self-assessment tool can be found on this Ontario Ministry of Health's web page: covid-19.ontario.ca).
Currently, results are coming back within three to five days, with the ministry working on bringing that timeframe down to anywhere between 24 and 48 hours.
"However, with the large number of cases, we have had to prioritize our results and direct them to those who are most vulnerable in our community, that is, where lives are going to be lost if we don't take rapid action," says Dr. Kurji.
For low-risk people who have tested positive, Dr. Kurji recommends continued self-isolating for 14 days after the onset of the symptoms. If a person's condition deteriorates, they should seek additional help.
The total number of confirmed cases in York Region, as of April 30, 2020, is 1,522. Of those, 747 cases are active, and 674 cases have been resolved. There are currently 56 cases requiring hospitalization, with 17 cases in the intensive care unit (ICU). There have been 85 cases of health-care workers affected, with one death in that sector. According to a Regional Municipality of York Region COVID-19 online update, there have been a total of 101 deaths to date in York Region: 26 per cent of the cases were acquired from close contact, 33 per cent were from institutional outbreaks, 20 per cent were from local transmission and nine per cent were from travel.
In Vaughan, the total number of confirmed cases as of April 30, 2020, is 646, with 260 active cases, 349 resolved cases and 37 confirmed deaths. Eighteen people have been hospitalized, with three of those hospitalized in ICU. There are also 25 cases where health-care workers have contracted the virus. A total of 33 per cent of Vaughan's cases have been acquired through close contact, with 23 per cent of the cases being institutional outbreaks, 24 per cent being attributed to local transmission and eight per cent being attributed to travel, according to a Regional Municipality of York Region COVID-19 online update.
The trajectory of the coronavirus curve has been highly concerning and has instilled fear in many people, so it is important, in the spirit of best practices, to separate fact from myth, including reports about the novel coronavirus coming into homes on food products and carry-bags.
"We have not seen any cases from the virus being carried in on bags and fruit items," Dr. Kurji says. "And while we do not want to go overboard on measures, it would be prudent to clean vegetables and other things that have been touched by others, simply because the virus may survive for a few hours. The important thing is to take appropriate measures, but not go overboard with them. From a science perspective, the way that we would contract the virus is if someone were infectious and coughed over some of these foods," he confirms. "In that case, the virus might be on some of the items, which could pose a risk if you touched these items and then touched your eyes, nose or mouth. More than likely, a virus on these kinds of things would last a few hours, as opposed to several days. It also helps to wash your hands with soap and water after you put your groceries away."
In order to lift restrictions, Dr. Kurji states that the intended protocols will be threefold. The first is looking at cumulative cases (the number of cases that have accumulated to date) while the curve is flattening; it is not completely there. The second thing would be to look at the number of new cases— the ideal protocol would have the number of new cases to be under 10 — but preferably four or five on a daily basis. And the third thing would be to look at the availability of testing for anyone who wants to be tested, as there may be a lot of cases in the community that have not been identified. "We will want to capture those cases through the assessment centres," Dr. Kurji says. "The availability of testing is extremely important. And once we have these three things in place, we can relax the physical distancing," he says. "We are using three fundamental approaches, which include looking at the containment of the virus, the context around it, then putting rings around it to deny what is the fuel of the virus, which is the human body. Any case that we might miss, because of the doubling factor of the virus, can net out to 100 cases in a month's time," says Dr. Kurji. "In my opinion, Canada's main trajectory is very different than that of other countries, because of our strategy of social distancing. Testing is also extremely important, because it gives us the intelligence on where to focus our resources for case management. With physical distancing, we are denying the virus the fuel that it needs to spread, which is human bodies."
Dr. Kurji believes that in order to relax the physical-distancing restrictions, we need to follow both the containment strategies as well as the testing strategies. To that end, and as a part of how we will be living in what is now being called the "new normal," he states that as Canadians, we may not want to travel to the degree that we are used to. "The world is probably a dangerous place to be just now, until the different countries get their situations under control," Dr. Kurji says. He also suggests that as a society, we may continue to work in a singular setting, sustaining the virtual work protocol currently in place. "There may be a whole new affirmation in the way society works," he says. "We may want to continue to keep our physical distance in packed areas, to continue to abide by the current modifications, [and] some of these may continue to be the routine. Interestingly, one of the things that we have noticed is that the influenza virus has virtually disappeared," reveals Dr. Kurji. "In fact, we may be encouraging physical distancing in the future during the influenza season. It could be a great benefit in terms of lives lost because of influenza every year."
And while the physical aspects of the coronavirus are worrying, the anxiety and mental health concerns around people isolating — and people feeling isolated, alone and fearful — are real. Indeed, it is a situation that each one of us needs to be aware of. COVID-19 is a virus that is non-exclusive, as we have seen with the recent virus-positive diagnosis of Ontario Premier Doug Ford's mother-in-law, as well as Prime Minister Justin Trudeau's wife, Sophie Grégoire Trudeau. As such, it is important for each one of us to stay positive, focused and centred.
"A person's actions must be aligned with their values, principles and beliefs. When facing COVID-19 or other challenges, we need to be anchored to faith, hope and optimism," Mayor Bevilacqua says. "There is one thing that I can guarantee: desolation is followed by consolation. It is imperative to maintain a very positive outlook and not let negativity sink into your heart and your mind. Always focus on optimism, hope and faith. That is what we need psychologically, spiritually and morally. We need to anchor ourselves to things that are uplifting," he says. "I always tell people to write down the blessings they have, all the things that they are grateful for and the resources they can access to get through this. This includes the many government programs that have been made available during the COVID-19 crisis. We are in this together, and we will emerge even stronger."