The ABCs Of Negotiation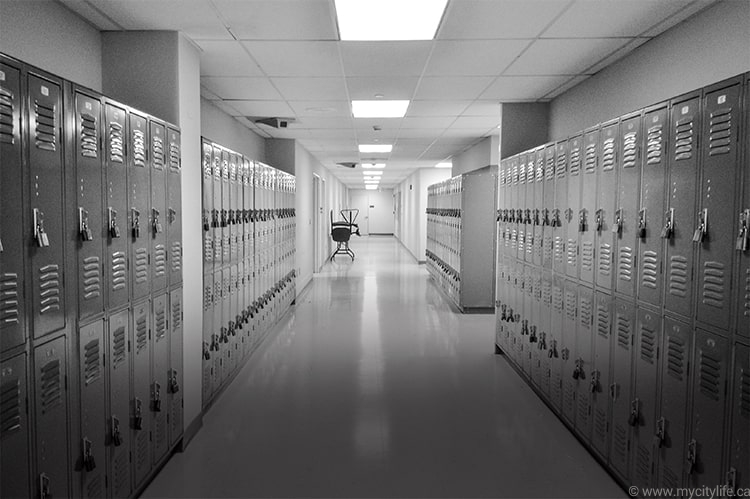 The ABCs of education are being parsed in a whole new way as the conflict between Ontario's educators and the government's Ministry of Education escalate. In this new curriculum of negotiations, the A stands for (rotating strikes) action; the B exemplifies bargaining, (and butting heads); and the C – well, that is where things get contentious, depending on which side of the page you are on. Teachers and educational staff look at the current government's approach as one that is centred on cost cutting, mandatory online learning, and classroom size increases. The Ministry of Education's position is one that they say has no basis in cost-cutting but rather is focused on an increased investment in students' education.
Indeed, while there are a lot of prickly discussions and heated arguments around cuts to the public education system, the vision and objective for Stephen Lecce, minister of education in the Progressive Conservative Party of Ontario, is, he says, to deliver learning and economic opportunities for every child, irrespective of faith, heritage, orientation or social economic status. When asked how the government's position matches this vision of investment, which is contradictory to the teachers and unions' concerns around impactful cuts to the educational system, Lecce rejects the premise of the question. "We are spending more on public education, at the highest levels ever recorded in Ontario history, under any government or under any premier, because we believe in public education. We are on track to spend $1.2 billion more this year than we did last year; we are doubling the mental health investment to $40 million, as well as $3.1 billion in special education. We are embracing core competencies such as STEM – Science, Technology, Engineering and Mathematics – and we are putting an emphasis on going back to the basics in mathematics as well as mandating financial literacy in our curriculum. That is why we are investing at the highest levels for mental health, to make sure that classrooms are safe and positive learning environments for all students."
As in any labour dispute, there are ever-changing points of position before the Rubik's Cube clicks into place. The accusations of misrepresentation and cross-intentions between the Ministry of Education and the teachers' unions are akin to a two-way mirror that is missing the glass. In fact, the trust factor between the two sides is thinner than lake ice on a warm spring day.
Liz Stuart, president of the Ontario English Catholic Teachers' Association (OECTA), states by email, "The Ford government has been working hard to mislead Ontarians about education spending. The truth is that in the 2019-20 education budget, the core grant for elementary and secondary students was cut by $630 million. Another $230 million in funding for programs and supports for vulnerable students was eliminated. The 'increase' is due to the so-called attrition protection fund, which is meant to mask the effects of the government's class size increases and mandatory e-learning regime until the next election, and the new child care tax credit, which has nothing to do with elementary and secondary education. The government's own projections show that the plan is to essentially freeze education funding going forward. By 2021-22, when we take into account inflation and increases in student enrolment, the Ford government will be underfunding core education costs by $1.1 billion."
Harvey Bischof, president of the Ontario Secondary School Teachers' Federation (OSSTF), states that, "The government has announced its intention to cut one out of every four high school teacher positions, thousands of education worker positions, people who support special needs and assist at-risk students, and institute mandatory e-learning programming for the purpose of increasing class sizes. All of these cuts and changes will lead to demonstrably decreased student success and lower graduation rates. We know that every dollar invested in education returns $1.30 to the broader economy, and every dollar taken out of education costs the economy $1.30. These are short-sighted savings at best. This conflict is about so much more than compensation. It is absolutely about quality of education; members desire to best support the students that they work with, face-to-face on a daily basis. Our philosophy is that education is not a mere expense; it is an investment in Ontario students' futures as well as Ontario's future economy."
And Joy Lachica, president of the Elementary Teachers' Federation of Toronto, (which is under the umbrella of the Elementary Teachers Federation of Ontario [ETFO], a union of 83,000 elementary public school teachers, occasional teachers and education professionals across Ontario), posits that the government's proposal for special education funding is less than half of what it was in its 2017 collective agreement. "We know that the minister is grossly misrepresenting what the landscape is," Lachica says. "We see an alternate agenda from the government, which is to bring in vouchers, charter schools and private schools. We want to see our public education intact and preserved for the future of our children going forward. In Toronto alone, since the government took power, we've seen about $70 million in cuts to staffing programs and resources in our elementary schools, including social workers, psychologists and special needs workers. Classrooms have been deeply impacted by cuts that have occurred over the last year. And what we are now seeing is another $150 million that has been proposed for cuts to programs and resources going forward. We see that this is the time to come together with Ontarians, we are building a movement – we are saying no cuts to education. We do believe that the public, Ontario en masse, is standing with us, and we appreciate that support."
"Our philosophy is that education is not a mere expense; it is an investment in Ontario students' futures as well as Ontario's future economy" — Harvey Bischof, president, Ontario Secondary School Teachers' Federation
Safe environments for students to learn in – ones that are positive, nurturing and free from violence – are considered by the teachers and their unions as a key, intuitive mandate. An elementary school teacher since 2004 in the Ontario English Catholic Teachers Association, OECTA, shares an incident that happened at her school just recently. "In our school of 300, we have a child who is special needs and is challenged. She went into the bathroom, had a bowel movement, picked it up and then smacked the unsuspecting Educational Assistant, (E.A.) in the face with it. The child is also a flight risk. She hurts other kids, but we don't have enough supervision to keep her under scrutiny the whole time. There are a couple of time blocks where the support workers need a break and she is integrated into the classroom. Of course, all of the other kids are terrified of her. She needs a child and youth worker (CYW) to work with her. There is also an autistic child who is abusive and has hurt many children," the teacher says.
The most impactful changes that this teacher has seen since she first started teaching are, a decrease in resources and an increase in class sizes- with one of her classes having 36 students. "In a current split class of 26 students, (10-11 years old), seven are on individual education plans IEP, and I have two autistic kids with no support for them. I do a lot of extracurricular work as well, so by the time I get home from school every day I am absolutely exhausted."
And while Lecce maintains that classroom size increases represent a modest and responsible increase over several years, and, that the government is in the midst of rehiring thousands of E.A.'s in real time, Lachica says "Currently, there are no class size caps in grades 4-8, with some classrooms reaching up to 40 students with one teacher. We need to see the support of adults in class, because we have many special needs students who are now integrated into regular classrooms – on a much larger scale than previously. It is about staffing and the resources for programming. Violence is on the rise; that is because the size of our classrooms and not having the support of additional resources. We need working conditions that are positive for our students. Parents of students with autism, for whom the government has previously reneged on their promises to, are rallying."
Compensation that reflects the cost of living inflation – which currently means a two per cent annual wage increase versus the proposed government wage increase of one per cent – is also a part of the labour negotiations.
"Ontario high school teachers are the second highest paid in Canada; and, after ten years of service, they are the highest paid," Lecce states.
"We are out because of the stated critical issues," Lachica counters. "Teachers are on the lines, with a loss of salary, because they care about the critical issues. This action is about the teaching and learning in our schools, about the future of public education. This is an equity issue. All students receive a world-class public education because of what we've built for generations, through our hard-earned tax dollars. This is a critical moment in Ontario, not just for education but also for health care as well."
On the volatile issue of mandatory e-learning, Lecce believes that this type of learning will help students' perspective, vis-a-vis providing a learning process that delivers a labour market lens that is relevant to the job market.
But Bischof believes that there is another side to the e-learning coin that critically impacts students. "About five per cent of Ontario students currently do e-learning on a voluntary basis," Bischof says. "They are self-selected and don't succeed at the same rates as students who are in face-to-face classrooms. We know that when we make students take mandatory e-classes, they are not going to succeed at the same rates as they do when they get professional attention from education workers and teachers in regular classes. We also know that when students fall behind in their credit accumulation, their odds of acquiring their graduation diploma drop off precipitously. These are the students who are no longer prepared to move into postsecondary education or to begin a skilled trade apprenticeship. Avenues to future opportunities are simply cut off for them."
The OECTA teacher concurs. "The government is trying to cut the candle at both ends. They are trying to cut the all-day kindergarten; and, they are trying to cut programming for the older kids by making them take two e-learning classes. We are asking adolescents to take on far too much responsibility for their education; they still need structure and guidance."
So where do the public, the parents and the students themselves factor into this whole equation?
Well, in a recent poll conducted by DART & Maru/Blue Voice Canada Poll, (week of Feb. 3), overwhelming support was tabled for both sides – which includes all four unions: the OSSTF, OECTA, the EFTO and The Association des enseignantes et des enseignants franco-ontariens (AEFO) – to get back to the negotiation table and find solutions to the issues. Other interesting facts found that while 78 per cent of respondents want the strikes to end, and think that the impasse should be resolved by appointing an 'independent third-party,' 58 per cent urge the government to use back-to-work legislation if a full-blown strike breaks out. However, the study reports that the public believes the teachers' talking points more than the ones from the government; and relative to other questions asked in December (2019) as well as last week, the teachers had gained significant ground. Importantly, when asked who is acting in the best interests of parents and students, the teacher unions are up eight per cent from a December 2019 polling, to 45 per cent support, with government support at 18 per cent, and 39 per cent favouring neither side (source: DART & Maru/Blue Voice Canada Poll).
"This action is about the teaching and learning in our schools, about the future of public education. This is an equity issue" — Joy Lachica, president, Elementary Teachers of Toronto Local
Another independent online polling study from Environics Research states that "After the Christmas break, 2019-2020, and in spite of a return to job action activities by teachers and education workers, Ontarians reprise their sustained philosophical alignment with these professionals when it comes to current labour negotiations; almost two-thirds believe the government is on the wrong track when it comes to public education, while a similar proportion report they are most sympathetic to teachers and education workers when it comes to the negotiations; an increasing proportion of Ontarians prioritize investing in education over fighting the deficit and support continued efforts by teachers to negotiate for those items which are important to them" (source: www.bargainingforeducation.ca).
For the sake of the students, who are our leaders of the future, it is both critical and topical that both sides come together to resolve key differences, and commit to playing nice in the sandbox. In fact, it is critical for Ontario, which now touts itself as being 'open for business,' to have a pool of well-educated high school, college and university graduates who can rise to the challenge of staffing, directing and leading our well-heeled province into a future of economic stability, growth
and success.
"I want every child to see themselves reflected in their school, where their potential is recognized and nurtured. We are expecting greater levels of accountability from the investments we are putting into the system because we want to deliver the best outcomes for students," Lecce says.
"Ontario competes on the basis of its high-quality education; of having an extremely high rate of postsecondary educated students, which makes us competitive in the global economy. And to weaken that competitive edge is pure folly," Bischof counters.
On Friday, February 21, all four teachers' unions conducted a one-day massive strike with a reported 30,000 to 35,000 teachers, school staff, parents and students walking the one-kilometre-plus route around the Queen's Park circle in Toronto. Since then, two of the four unions announced they would be back at the bargaining table on Monday, Feb. 24.
More information on the issues can be found at the OECTA information site, www.knowmore.ca