Celebrities tributes outpour for Kobe Bryant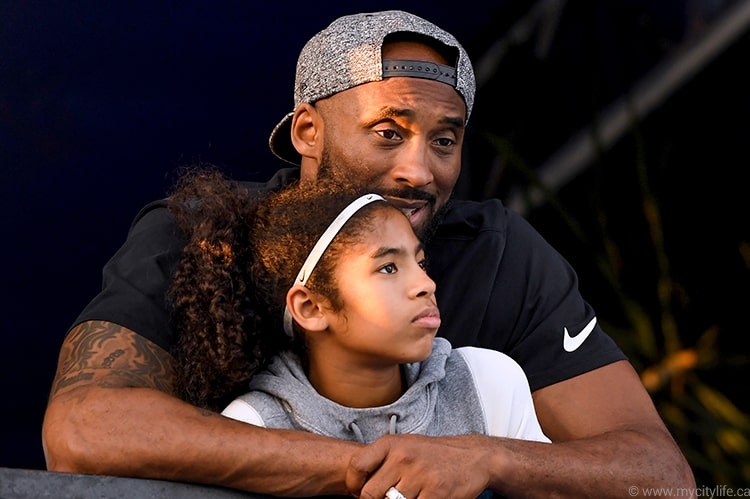 A helicopter accident has tragically claimed the lives of Kobe Bryant, NBA superstar, his daughter Gianna Maria Onore Bryant, along with 7 others.

It happened on Sunday January 26th in California while the, travelled to a youth basketball game.
Bryant's death has sent shockwaves through the NBA and here in hometown Toronto. No one can forget his 81 points scored for the Lakers against the Toronto Raptors in 2006, nor the much-relieved missed shot at the buzzer in a 2010 game where the Raptors won 106-105.

A few days after the incident, Vanessa Bryant shared:
Many celebrities wished well to Bryant's family in a number of tributes on social media:
Lebron James:
Kobe's final tweet was one directed to Lebron James:
Continuing to move the game forward @KingJames. Much respect my brother 💪🏾 #33644

— Kobe Bryant (@kobebryant) January 26, 2020
Shaq:
Michael Jordan called Bryant a fierce competitor and a "creative force." "I loved Kobe — he was like a little brother to me," Jordan said in a statement issued by his spokesperson. "We used to talk often and I will miss those conversations very much."

Steve Nash:
My heart is broken for Kobe and his family. I'll never forget the battles but what I really admired was the father he was to his girls. Rest In Peace old friend with your angel Gianna 💔

— Steve Nash (@SteveNash) January 26, 2020
Pau Gasol:
you'll always be in my heart… my big brother… 💛 pic.twitter.com/ytJ2JDKNaB

— Pau Gasol (@paugasol) January 28, 2020
Steph Curry:
Toronto Raptors:
Norman Powell:
From an early age, Toronto Raptors guard and San Diego native grew up idolizing Kobe Bryant.
"He meant everything. I model the whole mentality of being an ultimate competitor, grinding, working day in and day out, sacrificing a lot of things to get to where you want to be. I try to implement that in my game." Bryant's influence impacts "the way I go about basketball, life, competing, working to be the best. Maximizing the God-given abilities, just like he did."

DeMar DeRozan, who scored 14 points, consoled Walker even as he battled his own emotions. DeRozan, who was raised in Compton, California, was a fan of Bryant growing up and became close friends with him.
"Everything. Everything," DeRozan said when asked what Bryant meant to him. "Everything I've learned came from Kobe, everything. Take Kobe away, I wouldn't be here. I wouldn't have love, I wouldn't have the passion, the drive. Everything came from him."

PK Subban:
Shocked and in complete disbelief… A father, husband, legend, and idol gone way too soon. Thank you for the time, the lessons, and 20 years of greatness. #ripmamba🐍 pic.twitter.com/oqAtpaMlz8

— P.K. Subban (@PKSubban1) January 26, 2020
Barack Obama:
Kobe was a legend on the court and just getting started in what would have been just as meaningful a second act. To lose Gianna is even more heartbreaking to us as parents. Michelle and I send love and prayers to Vanessa and the entire Bryant family on an unthinkable day.

— Barack Obama (@BarackObama) January 26, 2020
Alicia Keys
at the 62nd Grammys:
"We never imagined in a million years we'd have to start the show like this," she said. "So we wanted to do something that could describe, a tiny bit, how we all feel right now." – host Alicia Keys.

Elle Duncan retold of her initial meeting of Kobe with ESPN:
As I knew she would, @elleduncanESPN brought a much-needed perspective to the death of #KobeBryant. Proud of you, Sis! pic.twitter.com/VfbuAgg6AN #Kobe

— Michael Eaves (@michaeleaves) January 28, 2020