Xana International: The General Contractors On A Continuous Mission To Give Back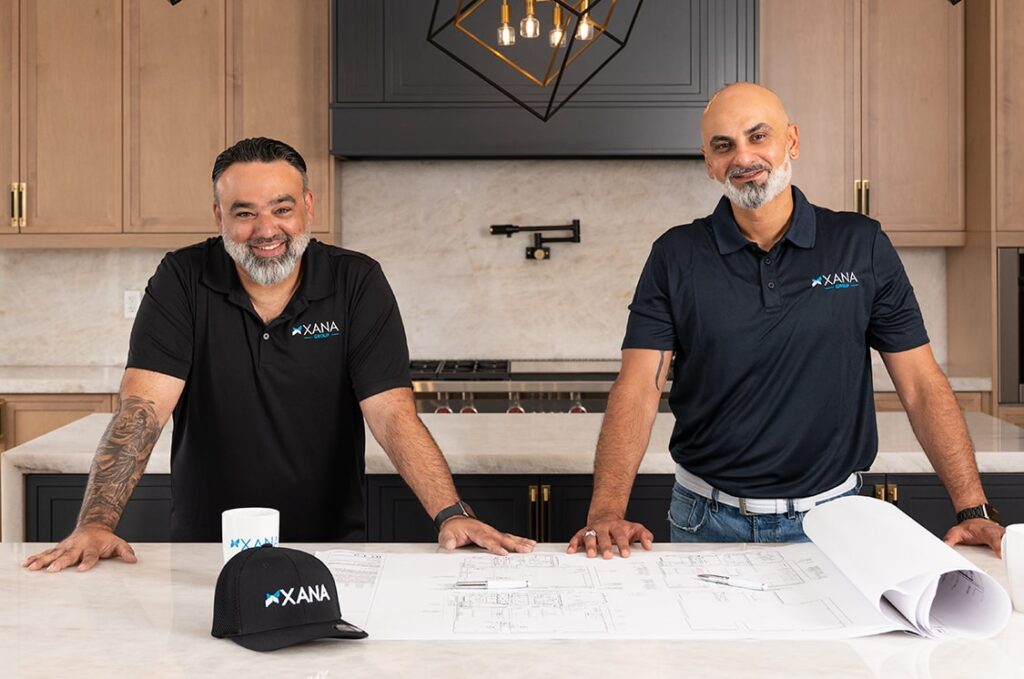 Founders and business partners of Xana International, Mahmood Kara and Shane Worthington, discuss the projects they've worked on and why their collaboration works so well.
When Mahmood Kara and Shane Worthington joined forces, it set a precedent for what was to come. Kara came from the hospitality industry, armed with an understanding of an owner's perspective and knowing exactly what clients are looking for. Worthington came from an operations and aviation background, taking a "no room for error" detail-oriented approach to work.
They grew up together, playing hockey when they were young. After reconnecting following time apart, Kara was supplying furniture and fixtures to hotels when a client asked for an install, too. That's when he approached Worthington, to see if he was willing to partner up. "We did our first project together and the same owner had more work for us," says Kara. "Word-of-mouth in the hospitality industry spread, and we kept rolling."
Together, they are Xana International Inc., a boutique general contracting company working across hospitality, residential and commercial projects. When it comes to hospitality, the business renovates to the highest standard, handling unique requests from clients. In residential, the process is a partnership, with constant communication to realize every client's vision. To date, they've forged lasting relationships with property owners, stakeholders and other professionals, and their portfolio includes W Hotel – Toronto, the boutique Anndore House in downtown Toronto, the Radisson Hotel near Pearson airport, as well as the Hilton in the same area.
As Kara says, "The hospitality industry is a very close-knit community, and we're lucky we got the opportunity to work with a few from the start, before word just spread."
Regardless of the scale or location of a project, the duo's intentions have always been the same: to build a business that would allow them to give back to the community. "Our dream is to get to a point where we can start building schools and orphanages around the world," Kara says. Currently, the company donates to community schools in the area on a monthly basis, and it takes on for-profit projects to help seniors.
"Whenever we bring anybody into our business, we explain that to them and get their buy-in, so they work with their hearts," Kara continues. "We've been really lucky with the talent that's come through our doors. They're amazing people who understand what we're trying to do."
The heart that ties all their work together is the same, but Xana International's process for working with clients differs depending on the needs. For hospitality, Kara explains that the team will "engage a designer beforehand. They come to us and we determine the scope of work, schedules, materials, and we tell the hotel what rooms to have out of service on which dates."
Worthington shares how the residential process is slightly different. "We get an inquiry through social media or our network," he says. "Then we'll conduct a site visit with our residential team, put a proposal together and preliminary drawings and sketches so the client can visualize the project, and then provide a proposal and go from there."
The business partners also share how their venture is on a consistent mission to do things better. "The biggest area where the ball can be dropped in our industry is communication," explains Worthington. "It's so important to have everything documented and communicated in a timely fashion, so we're heavily investing in technology to give us a platform to do that and display that information to owners, staff, labourers and our clients."
It's clear that the duo have already put in the hard work to get where they are. However, future plans indicate they're just getting started. "We're focusing on opening another office, in Orlando," Kara says. "We're going to take a similar approach and, luckily for us, a lot of our clients have properties there, so we already have a foot in the door. There are a lot of old, dated hotels in that area. Given our relationships with owners and brands, we feel we'll be a good fit."
When reflecting on the definition of success, you also get a glimpse into Xana International's future. Kara shares that it's "the ability to impact others in a positive way. When I've finished my working life, I want people to know we did things with the right intentions, in good faith and that we always tried to help. That, to me, is the definition of success."
55 Administration Road, Units 33 & 34, Vaughan, Ont.
416.477.4770
www.xanagroup.ca
@xanaresidential
@xanacontracting