The LH Prestige Guarantee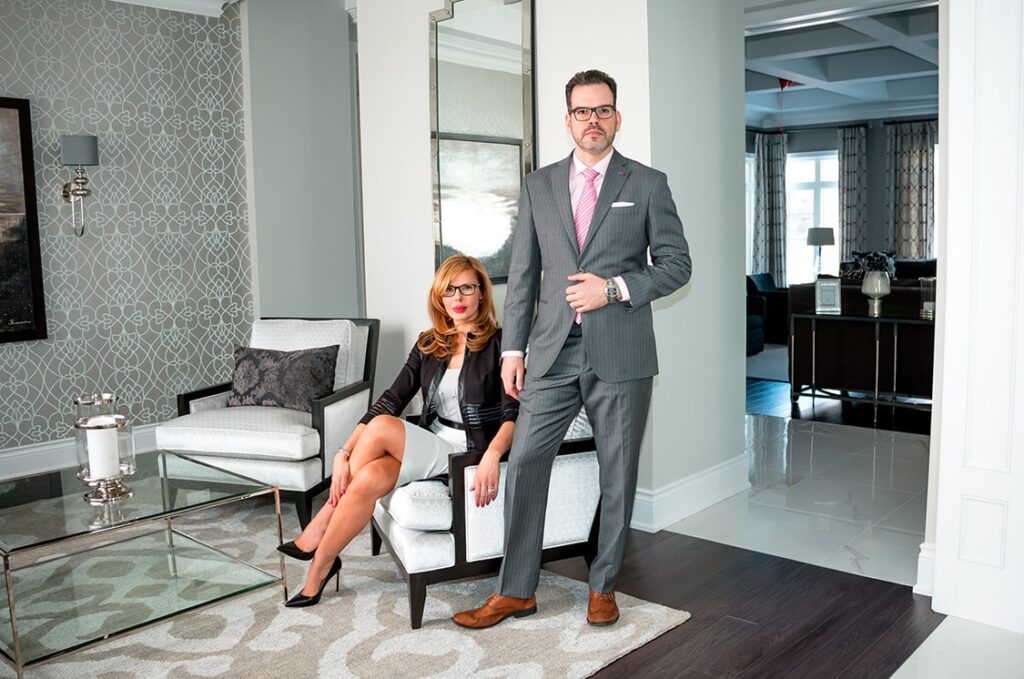 How a dynamic real estate team is changing the game with staggering guarantees and unheard-of service that's raising the expectations of buyers and sellers in Vaughan.
When it comes to buying and selling homes, Lauren Parente and Hugo Castrillon, partners of the LH Prestige Team, aren't afraid to put skin in the game. These real estate sales representatives are elevating expectations through game-changing guarantees that completely mitigate risk for their clients.
"We guarantee, in writing, to sell your home in 24 hours at a price acceptable to you. If not, we'll step up and buy it ourselves*," explains Castrillon. "We're all about providing the most benefit to the client, and that means we should have an element of risk in the sale of their home."
This customer-first philosophy has opened new doors for homebuyers and sellers across Vaughan and the Greater Toronto Area, and it's made all the more enticing by the addition of an unheard-of level of service.
Once the LH Prestige Team signs a listing they offer a free top-to-bottom home cleaning, free home staging in entirety, free professional photography, virtual tour and a customized marketing plan, which includes leading-edge technology such as 24-hour talking ads, a radio talking house, customized social media campaigns, custom YouTube videos and more. The LH Prestige Team also guarantees a one-year warranty on the electrical and mechanical of the home. Looking to throw a housewarming party for your new abode? They'll have it catered and help you host it.
"We also post a rider on our for-sale sign that says if you buy this home we'll buy yours*," Castrillon adds. "We're so motivated to get your home sold that we're willing to purchase the buyer's home to make it happen*."
Want more? If after 18 months you're unhappy with the home, just give them a call. "We guarantee that our clients will like the home that they purchase, that we've done a good enough job of finding them their dream home, or we'll buy it back or sell it for free*," says Parente. "We're confident in what we do to the point of making that offer to our clients."
The staggering amount of benefits offered by the LH Prestige Team may sound too good to be true. But for these Vaughan natives, who both have families of three children and understand the emotional weight of buying a new home, it's about doing everything to make customers comfortable during one of the most stressful transactions of their lives.
"Although a lot of agents may promise to sell your home, where's the 'or what' if they don't come through? There are often no consequences. We believe the agent should have something at stake," says Castrillon. "We're prepared to guarantee, in writing, to sell your home within 24 hours at a price acceptable to you or we'll buy it ourselves*.
We're that confident in getting the job done."
These amazing offers have led to incredible results — especially for clients. The LH Prestige Team sells homes for 9.4 per cent more than the average Vaughan agent. Their listings also sell three times as fast as the average listing. Because of this speed they sell 10 times more properties than the average agent**.
We guarantee, in writing, to sell your home in 24 hours at a price acceptable to you. If not, we'll step up and buy it ourselves*
— Hugo Castrillon, sales representative of the LH Prestige Team
For Parente and Castrillon, offering these assurances to their clients is an integral part of their success, but it's their training, their knowledge of the local market, their substantial client list and their team structure that allow them to reach new heights.
Both Parente and Castrillon were trained by Craig Proctor, a real estate icon who became Re/Max's No. 1 agent worldwide before he was 30. This tutelage gave them the insight and tools to confidently make their substantial guarantees. As a result, they have been designated as Accredited Platinum Real Estate Agents which puts them in a select group of the top 200 agents in North America. Combine that with their intimate knowledge of Vaughan and how the city is developing, and Parente and Castrillon wield an expertise for moving property at top dollar.
"It's important to have the buyers," Parente explains. They currently have over 1,000 buyers in their personal database, which they've established through a combination of extensive networking, referrals and cutting-edge marketing strategies. In addition to this, they have over 30,000 additional buyers-in-waiting which they established by forming an exclusive networking group known as the Toronto Platinum Mastermind Group. The group includes some other award-winning real estate sales representatives from as far west as Kitchener-Waterloo and as far east as Cobourg.
Through this network, they share best practices, discuss the most advanced marketing strategies as well as challenges within the industry and how to overcome them. This openness is key to getting deals done.
"We've found that building close relationships with other agents has been very positive for the exposure of our clients' homes," Parente explains. "This positioning is key to selling homes fast, for top dollar and with the least amount of hassle," which is exactly what the LH Prestige Team is on a mission to do. "It's almost as if we have been searching for a buyer for our clients' homes long before even meeting them," Parente adds.
The LH Prestige Team has also set up a unique service for buyers looking to purchase their next dream home or investment property. Their exclusive Buyer Profiling System gives their buyers priority access to the properties
they seek.
"Our clients receive priority access to these properties, often before they come to market. That's important. It's a seller's market. Buyers are facing a shortage of inventory and bidding wars have become common," Parente explains. "Buyers need to receive access to properties quickly. They need to be positioned to beat out other buyers and we have a system in place for that."
These benefits are extended to their staff as well. Parente and Castrillon believe in empowering agents with education and information and by providing real appointments and warm leads. They also understand the importance of a work-life balance. Every month they run team-building activities that bring their agents together while pushing their boundaries. From yoga classes to CrossFit, the LH Prestige Team is all about pushing team members to believe they can accomplish things they never thought possible.
"It's not always about work. It's about having other goals outside of work and living active, healthy lifestyles," says Parente. "We try to go above and beyond and really, truly care about our agents beyond the work environment."
The same goes for service to the community. Parente and Castrillon are actively involved with meaningful causes, including the Children's Miracle Network and the Canadian Breast Cancer Foundation. Every time they get a referral they also make a donation to the SickKids Foundation.
It's this service — to clients, their staff and the community — that Parente and Castrillon see as the key to a healthy business and city. "We believe in unity, in the power of people coming together, and in celebrating life, living in the moment and having work-life balance," says Parente. "If we can make the process enjoyable and beneficial for our clients, then I think we're accomplishing that."
---
Lauren Parente and Hugo Castrillon
Sales Representatives
Re/Max Premier Inc., Brokerage
9100 Jane St., Building L, Suite #77
Vaughan, Ont.
416-987-8000
905-231-3876
www.lhprestigeteam.com
24-Hour Guarantee: www.LH24HourGuarantee.com
FREE Quick Online Home Evaluation: www.GTAOnlineHomePrices.com
18-Month Buy-Back Guarantee: www.LHPrestigeTeam.com/Buy_Back_Guarantee
Complimentary Online Home Search: www.search.woodbridgepropertyinfo.com/search
Join the LH Prestige Team: www.LHWorkLifeBalance.com
Get Social With Us
Facebook: www.facebook.com/LHPrestigeTeam
Twitter: www.twitter.com/LHPrestigeTeam
LinkedIn: www.linkedin.com/company/the-lh-prestige-team
Instagram: www.instagram.com/thelhprestigeteam
*LH Prestige Team and Seller must agree on price and closing date, conditions apply
**These numbers are based on Toronto Real Estate Board statistics at time of interview