Under Promise and Over Deliver – RE/MAX Hallmark Lino Arci Group Realty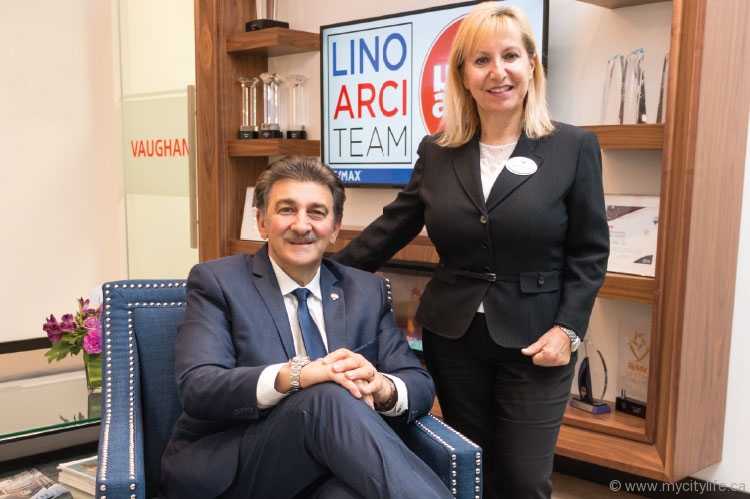 Experienced Realtors Lino and Italia Arci raise the bar for what it means to be in real estate.
Location has always been the most important tenet of real estate. So it's no surprise that Lino Arci, award-winning Realtor of more than 32 years, has made his new Vaughan base at the corner of Major Mackenzie and Cityview — or, as it's commonly known, "where the Home Depot is."
The new office introduces Lino Arci's personal sub-brokerage, RE/MAX Hallmark Lino Arci Group Realty, to the real estate world.
Real estate is Lino's passion. "It gives us a great sense of satisfaction and that we're doing really good things in the community," Lino says. Being team leaders, partners Lino and Italia Arci have taken it upon themselves to receive business and life coaching and relay that knowledge back to their team. It is vitally important that every member of the Lino Arci Team displays the morals, tact and values that it is known for.
During his 32 years in the business Lino Arci has developed an incredible reputation as a dependable Realtor — an especially important trait in the fast-cash world of real estate. For the last six consecutive years, the Lino Arci Team has placed not only in the Top 100 RE/MAX Teams in Canada, but also in the Top 100 RE/MAX Teams Worldwide.
Seeing the office, the atmosphere and culture, the friendliness and openness of the staff, and Lino and Italia Arci themselves, this does not come as a surprise. For Lino Arci Group Realty, it's all about helping people. "When we start talking to people, we don't ask, 'Do you want to buy or sell a house?' Our question is, 'How can we help you?'" says Italia Arci, Lino Arci's wife, partner and licensed Realtor for 30 years.
What sets Lino Arci Group Realty apart is the help and services it offers its clients. Besides the team's hospitable nature — offering coffee and cookies, Italia even half jokes, "We should have 'come in for an espresso' written on the windows" — the new Vaughan location is intended to be a learning centre.
If clients need help with any area of real estate, Lino Arci Group Realty offers advice and knowledge from in-house lawyers and experts on financing, mortgages and more. If the team does not know the answer, "We'll go out and get it for you," Italia says. These services are extremely valuable resources for first-time buyers, young couples and even experienced property owners.
Alongside the bevy of services the team provides, Lino Arci offers his word that he puts his money where your home is: "Your Home Sold, Guaranteed, or I'll Buy It." In fact, there have been a couple of occasions when Lino did buy a house the team was selling. Depending on the situation, Lino Arci Group Realty even helps prospective clients who are looking to purchase a home with financing and deposits.
All of these services are what make Lino Arci Group Realty an award-winning team. Italia captures the essence of Lino Arci Group Realty thus: "We want to treat people as we would like to be treated. We don't consider this selling. We consider what we do helping people find what they want, and we get to their dream home along the way."