InTouch Mortgage Solutions – Redefining the Mortgage Broker – Enza Venuto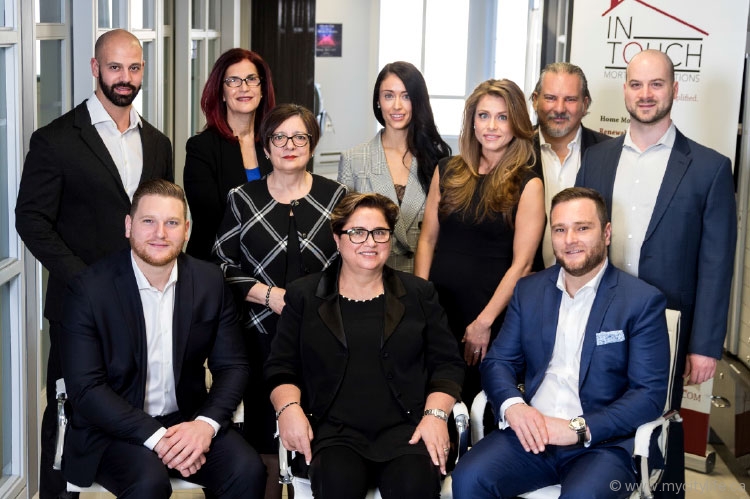 This award-winning team is making waves and redefining the value that mortgage brokers deliver.
For more than four decades, Enza Venuto has proven to be a dominant force in the financial industry, garnering an exceptional reputation with lenders, lawyers, realtors and clients. She is owner and principal broker of InTouch Mortgage Solutions, an award-winning boutique brokerage that promises to deliver a simplified mortgage experience.
After a 30-year career in banking, Enza worked as an independent mortgage advisor until starting her first Centum franchise brokerage in 2009. In 2017, Enza launched InTouch Mortgage Solutions together with her two sons, Claudio and Anthony Venuto, who also have several years of experience in mortgage and finance.
Enza is a proven leader in the field, having brokered over C$2.1 billion in funded mortgages to date.
Why use a mortgage broker? When people need a mortgage, in most cases they go to their bank — but banks are limited and can only offer their own mortgage products. In contrast, mortgage brokers such as the team at InTouch have relationships with a wide range of lenders, including banks, credit unions, alternative lenders and private lenders. "We know what each lender looks for on mortgage applications — this helps us determine the most suitable lenders for the specific client situation — we then focus on getting the best mortgage type, terms and rate for the client," Enza says.
As Enza puts it: "We are not your average mortgage brokerage. We are truly passionate about helping people get the financing they need to achieve their goals!"
Great leaders build great teams, and Enza has carefully built a team that shares her passion for helping people with the best possible solution. Every agent on the team is skilled in handling all aspects of mortgages, whether it's a commercial or residential purchase, refinance, renewal, investment property or a reverse mortgage. The team at InTouch has significant expertise in dealing with complex situations — and can get the deal done.
"We are not your average mortgage brokerage. We are truly passionate about helping people get the financing they need to achieve their goals!"
"Mortgages are complicated and can be a major source of stress even for a seasoned home buyer," Anthony says. "We take the complexity out of the mortgage process. Our team of agents works hard behind the scenes to provide our clients with a simplified mortgage experience. We guide our clients through the entire process, explain everything they need to know and what documents they will need to provide, so there are no surprises."
InTouch goes the extra mile and communicates with lenders, lawyers, realtors, appraisers and any others directly involved in the transaction, ensuring the process is on track, mortgages are funded and real estate deals close as scheduled.
The firm also prides itself on always being accessible to clients. Claudio explains, "We are always connected and available … our clients can reach us anytime, day or night, by phone, email or through social channels. We are also proud to say that we always answer our phones — and if by chance we can't, we are quick to respond."
Unlike some brokers in the industry, with the exception of a few extremely complex cases, InTouch does not charge a broker fee for 90 per cent of its business.
Enza and her brokerages have consistently won numerous accolades for their work. Most recently for outstanding achievements in 2017, Enza and InTouch Mortgage Solutions received the Centum Group Optimus Diamond Award; the Top Entrepreneur of the Year Award; Top Mortgage Brokerage Award; and Top Franchise in Canada; and spots on Canadian Mortgage Professional magazine (CMP)'s Top 75 Brokers list. Enza was also named one of Canada's top Women of Influence in the mortgage industry, and also included in the 2018 CMP Hot List — a list of 45 outstanding industry professionals.
With 75 per cent of its business coming from referrals, it's safe to say that InTouch Mortgage Solutions is making a lasting impression on clients.
Contact InTouch today to learn more about your best options.
www.intouchmortgagesolutions.com
[email protected] | TF. 1-855-245-9473 | D. (905) 266-9986 | 19 Coalbrook Crt., Vaughan, Ont. L4L 9B7
InTouch Mortgage Solutions Inc.
FSCO Lic #11789 – An Independently owned/operated franchise of Centrum Financial.