Edible Arrangements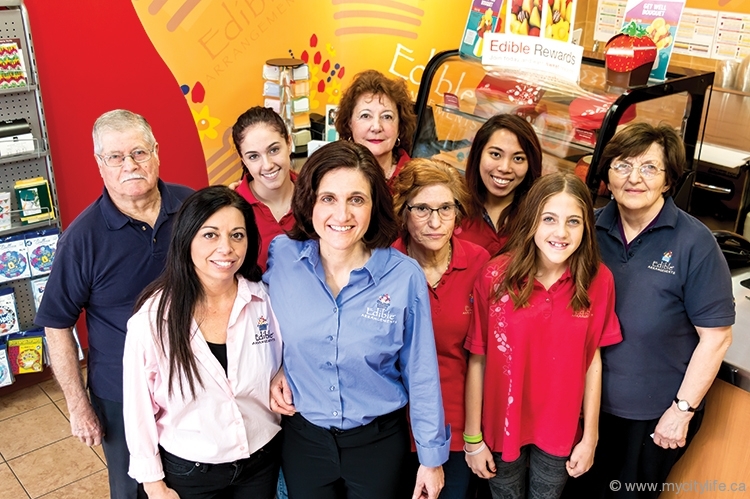 Celebrating a decade of success this year, Tiziana Cannella and her team continue to bear fruit at the Edible Arrangements location in Vaughan.
Years ago, Tiziana Cannella was sitting at home when a gift commemorating the birth of her baby arrived at her doorstep. Brimming with fresh strawberries, pineapple and grapes, the Edible Arrangements basket was the first one she'd ever received, and it's something she's never forgotten. "I thought it was such a great idea. The memory of me and my middle child enjoying the fruit is still fresh in my mind; we had such a good time."
Delighted and impressed with her experience, Cannella began sending her family and friends baskets of Edible Arrangements to mark their birthdays and anniversaries. "I remember saying, 'I wish there was an Edible Arrangements location close to home because at the time there was only one in downtown Toronto. So my husband and I decided to fill out a franchisee application and see what would happen. And that's how it all started."
"I love waking up in the morning, coming to work and delivering happiness"
— Tiziana Cannella
Ten years later, Cannella beams with pride as she and her dedicated staff ring in a decade of success servicing clients from the Edible Arrangements location in Maple, Ont., on Rutherford Road in the Tuscany Place plaza at Vaughan Mills. "I just enjoy what I do and I'm so grateful for my amazing customer base. People are so excited when they get these baskets. I love waking up in the morning, coming to work and delivering happiness," says Cannella, adding how excited she is about the storefront's fruit smoothie counter.
Well recognized in the community for her delicious and nutritious fruit baskets, Cannella explains that at the heart of her business is a commitment to quality and freshness. She and her team go above and beyond in their efforts by hand-selecting each piece of fruit for every arrangement after rigorous quality control measures. "We prepare every basket the day it goes out, and if we're busy because it's a holiday, we make sure to come in early and add an extra layer of staff," explains Cannella. "We sample everything. And if it doesn't meet our high standards, we toss it."
From chocolate-dipped bananas and strawberries to grapes, cantaloupe, oranges and seasonal picks like kiwi, watermelon and mango, Edible Arrangements baskets are the perfect way to spread the celebration. Apart from the health benefits, the fruit baskets are also known to say "thank you" and "congratulations" in a big way, or "I'm sorry" as they bring comfort to those experiencing a tragic loss or having a bad day. "When anyone opens the door and receives an Edible Arrangements gift, I want them to remember it, enjoy it and smile because of it," says Cannella. "Whether it's a birthday, anniversary  — I want that arrangement to be part of a good memory."
3255 Rutherford Rd., Unit 11
905-738-4100
www.ediblearrangements.ca