Discover The Vineyard Bringing Europe To Niagara-on-the-lake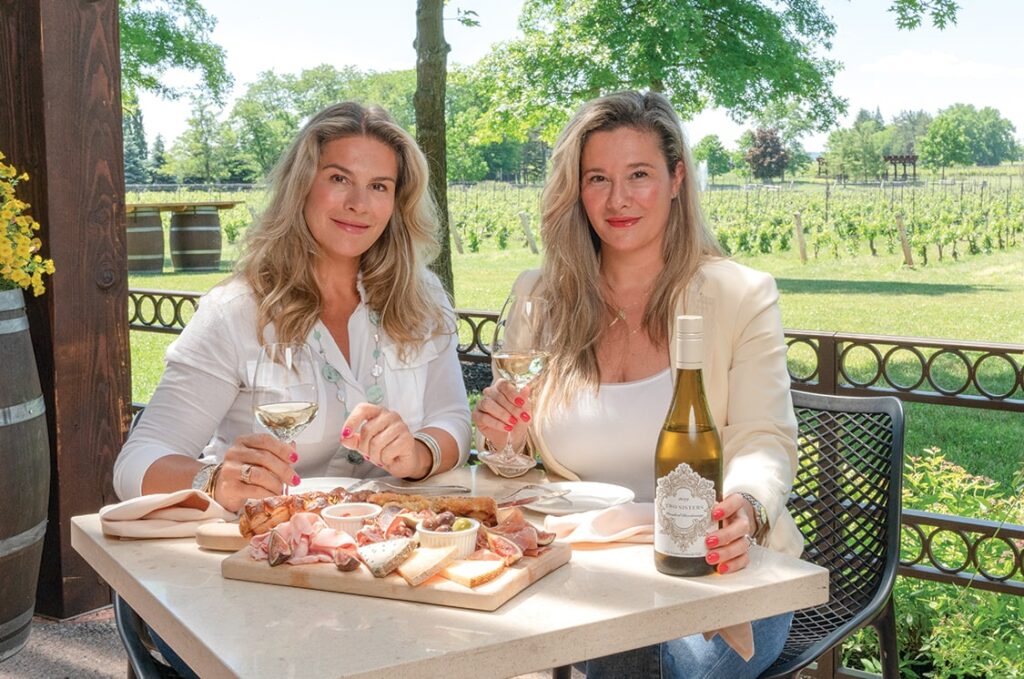 The co-founders of Two Sisters Vineyards, Melissa Marotta-Paolicelli and Angela Marotta, discuss their exclusive Wine Club and the experiences elevating their Estate, now boasting 130 acres of planted vines throughout the Niagara region.
If Two Sisters Vineyards is rooted in anything, it's a story. Founded in 2007 when its first vineyard was planted in the heart of Niagara-on-the-Lake, today it spans 130 acres and produces varietals such as Cabernet Sauvignon, Cabernet Franc, Merlot and Chardonnay.
It was started by Melissa Marotta- Paolicelli and Angela Marotta, two sisters who didn't just share a vision when it came to wine, but in creating an estate that combined comfort and character. Where its St. David's Vineyard, planted in 2017, takes advantage of the region's warm air to offer great ripening potential for late-season reds, its Niagara Parkway Vineyard, planted in 2020, is mostly dedicated to aromatic whites. As well, the estate, encircled by its incredible vineyards, allows Two Sisters Vineyards to consistently provide exquisite varietals with depth, character and texture.
Then you have the wines themselves: reds and whites, sparkling and icewine, all with their own taste profiles and narratives to tell. The Estate even has its own restaurant, Kitchen76, serving rustic Italian-inspired dishes that change seasonally, with produce sourced from local farmers or grown on the property at the Two Sisters farm.
While Two Sisters Vineyards has moved from success story to success story over the years, it's come into a new era of appreciation following the pandemic.
"What COVID's allowed everyone to do is discover what's in their own backyard," Marotta-Paolicelli says. "People who come to visit are doing so because they couldn't get on a plane and travel. They're discovering what Niagara has to offer, which is fantastic wine and wonderful experiences."
"We Host Harvest Events And Special Pickup Parties For Our Wine Club Members, At Time Of Their Wine Shipment, That Bring Members Together Socially"

Melissa Marotta-Paolicelli
Especially as we approach the summer, the sisters have leaned into ensuring Two Sisters Vineyards celebrates that, offering both tiered membership options and events that elevate the wine to the level it deserves, while creating a sensorial experience that touches on taste, smell, visual beauty, and community.
Two particular wine club memberships are the VIP Club and Cellar240, which gets its name from the fact it's capped at just 240 members. Where the VIP Club offers mixed six-bottle cases shipped quarterly, the Cellar240 tier offers red-focused 12-bottle cases. Both come with exclusive privileges such as complimentary tastings and invitations to Wine Club exclusive events on the Estate, such as access to the Barrel Room or Veranda to host private dining events, as well as complimentary dessert and icewine pairing when dining at Kitchen76.
"We also have a TSV Vine Points Program, which is the first in Ontario, where people collect points and can use them to purchase wines," Marotta-Paolicelli continues.
Whether you choose the VIP Club or the Cellar240 Wine Club, which is currently full and has a waitlist, you can be guaranteed exceptional service. "We know any member that comes to the winery on a first-name basis," says Marotta. "We host harvest events and special pickup parties for our wine club members, at time of their wine shipment, that bring members together socially."
"My sister and I are there with our wine club concierge, Erika. Wine club members themselves have created friendships, which is wonderful to see."
Given the location of the estate and the extensive work the sisters have been doing to the establishment, there's no shortage of event spaces and they have created a packed calendar that again makes the most of that. This summer, that includes a vineyard dinner, a beautiful, romantic meal hosted in the middle of the vineyard and curated tasting experiences hosted on the outdoor patio.
"We also built a pergola out by our pond, where we'll create exclusive events and have movie nights in the vineyard," Marotta shares. Journey of Flavours is another upcoming special event. Making a comeback on Sunday, the 31st of July, the winery will be reserved exclusively for ticket holders only. Elaborate outdoor food and wine stations will be set up with live music performances throughout the day, offering a multi-sensorial experience around their award-winning wine.
Whatever you choose to do at Two Sisters Vineyards, the sense of it being family-run travels throughout. Marotta herself admits that the two sisters "bounce ideas off one another," and Marotta-Paolicelli describes the estate's members as an extension of their family. "Members are welcomed with open arms and smiles from our team," she says.
It's also, for both of them, been built on the current times. "Wine has allowed us to connect and open up with one another again," Marotta continues. "I think that's what people have been missing and appreciate now more than ever: connection."
240 John Street East, PO Box 608, Niagara-on-the-Lake, ON
905-468-0592
www.twosistersvineyards.com