XXI Chophouse – The Five-Star Treatment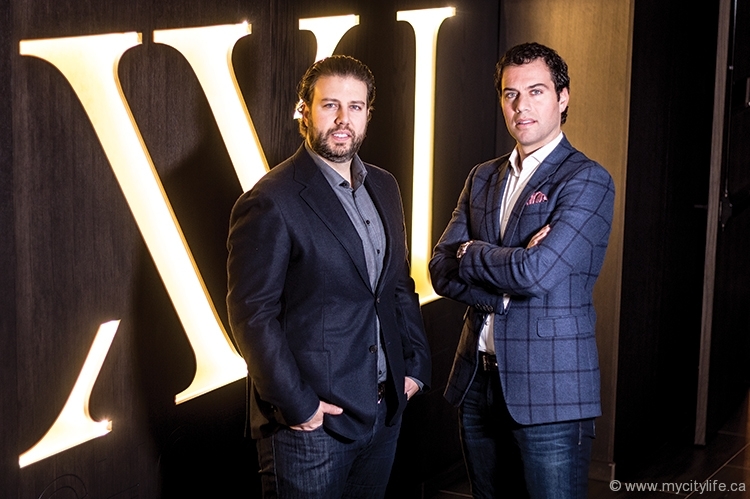 Kleinburg's newest hot spot, XXI Chophouse, "steaks" its claim atop the food chain.
Marc and Ben Graci were brought up to never settle. "Our father always told us to look for the best and the best will follow," Marc explains as he's seated with his brother in their latest culinary venture, XXI Chophouse. It's a sentiment that permeates through every detail of this much-talked-about restaurant, and one that's propelling the family to new heights.
When XXI Chophouse opened its doors in the Doctor's House last summer it was like a beefy shot of life to Kleinburg's dining scene. This high-end steak house embraces the five-star standards and cool, modern vibe of Toronto's most celebrated establishments, bringing that downtown flavour to one of the GTA's most coveted communities.
"This restaurant reflects the amazing experiences we've had at top restaurants around the world," says Marc, noting dining destinations in Las Vegas, Chicago and Miami as inspirations.
Our ultimate goal is for people to come here and say, 'That was perfect'
-Mark Graci
"We refused to cut corners."
That passion is felt in the marble walls, the custom rosewood-handled steak knives, the glass-enclosed wine rack and the meat locker where the premium organic T-bones, striploins and colossal 48-oz. tomahawks, sourced from Paradise Farms, are dry-aged up to 60 days. XXI Chophouse has style, it's got taste, and most of all: it's gotthe food.
"It's quality product, quality service and a commitment to excellence," Ben explains. "And that's a testament to the values our father embraced when he started in the banquet hall business 40 years ago."
In 2002, Ben Graci Sr. added the Doctor's House to the family's thriving banquet hall empire, which he launched in 1976 and includes Woodbridge's Supreme Luxury Event Venue. While the business boomed, the Doctor's House's restaurant wasn't living up to its potential. To elevate the space, they dedicated $1 million to its revitalization, bringing the Chophouse to life in July 2015.
Despite the price tag, XXI Chophouse isn't about the bottom line. "We did this to be our place for friends and families to come and have an unbelievable experience without having to leave the area," says Ben.
It's also a showpiece for these ambitious entrepreneurs' long-term vision. An underground cellar is on its way, and in 2017 they plan on starting construction of an 85-room inn and a 4,000-sq.-ft. spa on the property.
Aiming to rival the quality of luxury hotels found in major metropolitan areas, Marc explains, "Our ultimate goal is for people to come here and say, 'That was perfect.'"
If XXI Chophouse is a taste of what's to come, we can't wait for the next course.
It's in the Details
Downtown Comes Uptown
From the décor to the food, no expense was spared to create the stylish, modern atmosphere of XXI Chophouse
Aged to Perfection
XXI Chophouse's beef is on full display in its in-house meat locker, where it's dry-aged up to 60 days for maximum flavour
21 Nashville Rd. Kleinburg, Ont.
905-893-2467
www.xxichophouse.com