Intouch with the Beauty Team at La Couture
The moment you walk through the doors at La Couture Hair Lounge, it's as if you're walking through the doors to a friend's house. That feeling of comfort and being treated like family is something owner Diana De Cristofaro takes great pride in.
"From when I opened, I knew I didn't want it to feel like you were walking on eggshells. I want my clients to walk in and feel like it's their home away from home, and that's how La Couture has always been," says Diana.
For the past seven years, Diana and her team of talented hairstylists have been serving up style to the Vaughan community. This homey, chic and professional hair lounge opened with only three staff members and is now a close-knit team of 12, each bringing their own knowledge and experience to work with them every day.
"Our staff is always up-to-date when it comes to looks and trends, and the fact that they're able to educate our clients about the L'Oréal Expert and L'Oréal Professional products makes a huge difference," says Diana.
"Our clients see how close we are and how comfortable we are with each other and that really makes for a very welcoming experience"
The team at La Couture is set for the summer season, and they're more than ready to help you switch up your hair game. The stylists there have dozens of styling tips and product recommendations to make your hair shine this summer. Ditch the flat iron and embrace the air dry. Cut your hair or at least trim it during the summer to keep it healthy. Most of all, protect your hair from the sun, humidity and chlorine by investing in products that will nourish your hair better than the average department store brand.
As for this year's hottest summer hairstyles, Diana and her team are fans of the balayage and beach waves (a trend that is still going strong). Some of La Couture's most requested looks include top-knots, elegant fishtail braids, sleek chignons and those tousled beach waves. Whether it's for an outdoor music festival or the busy wedding season ahead, the sky's the limit with this team of trend-setting stylists.
So what's next for Diana and her team at La Couture? "My biggest dream is to open another location in the near future, to keep growing from there. I always get to a point where I say, 'This is what I wanted, but I want more.' My goal is to keep expanding, and I hope to pass this on to my family, my kids one day."
---
Stylists Tips for the Summer Season
This season's styling tips include keeping a haircare oil on hand, investing in a good detangler and remembering that dry shampoo will be your best friend this summer.
Sophie Anania, hairstylist
"Summer is all about the beach waves, especially that loose, tousled look, and we love L'Oréal Wild Stylers because it gives you natural-looking, free-flowing hair"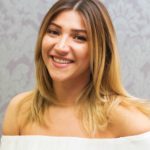 Olivia De Luca, hairstylist
"You should still be using a moisturizing shampoo and conditioner that nourishes your hair and for that we love L'Oréal Absolut Repair."
---
Make an appointment at La Couture Hair Lounge, a friendly place where eager-to-please staff welcomes you with a smile and a cappuccino.
130 Bass Pro Mills Dr. Unit 60, Concord, Ont.
905-532-0235
www.instagram.com/lacouturehairlounge
www.facebook.com/lacouturehairlounge