Alumarail Manufacturing: Quality That's Made To Measure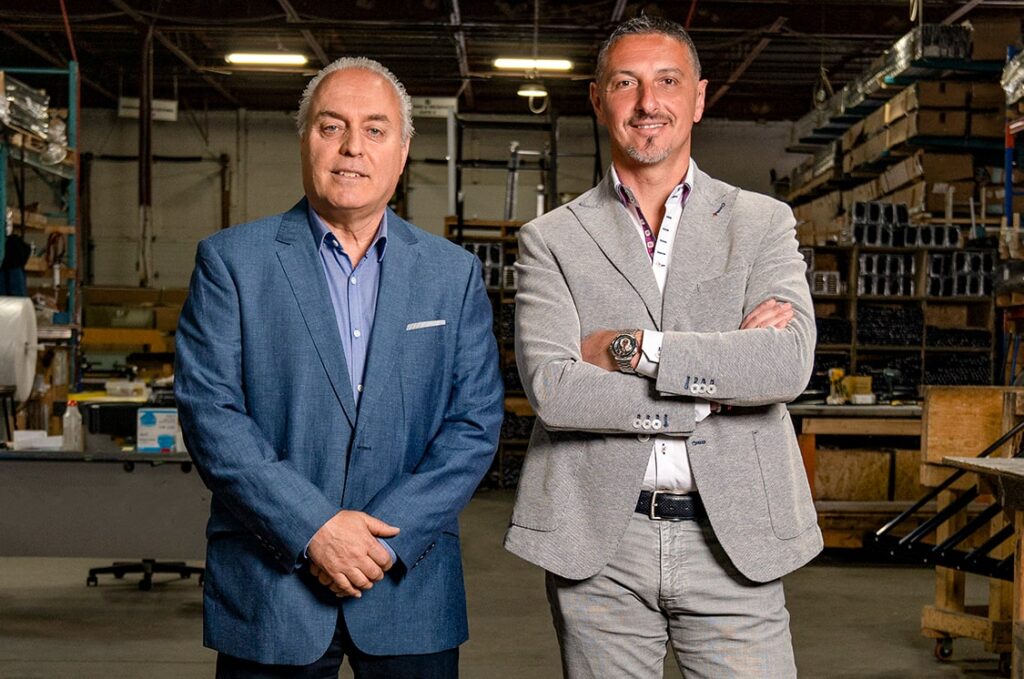 Alumarail Manufacturing's founders, Sal Cali and Mauro Mattei, discuss the beginnings of their company and what they do to stay ahead of the curve.
In 1983, Sal Cali started his business installing windows, doors and aluminum products. He was running a showroom that specialized in selling glass and mirror products. Then, in 1996, he noticed a gap in the market.
"I saw the need for aluminum railings," Cali says. "Everyone's [railings] were rusty, and we were doing so many improvements around the house, and that's what was left." After looking into aluminum railings and being introduced to another company that manufactured the product, he experimented with buying and installing them. This went so well that, by 2003, he'd started manufacturing his own product.
It was around this time Sal was introduced to Mauro Mattei. "I was looking for something new, and I had come from Italy not many years before," Mattei says. "I was already working in the wrought-iron-railing industry, which is how Sal and I were introduced by a mutual friend. That is how I started working as a contractor with Sal. In 2005, we decided to join the two companies together to create the business that exists today, Alumarail Manufacturing."
"We Spend A Lot Of Time In R&d And Engineering Our Products So They're Safe And Can Be Installed Anywhere"

Sal Cali
Alumarail is a business that is dedicated to providing properties with aluminum railings that look like wrought iron, yet require zero maintenance and never rust. All railings need precise measurements to be custom-fit to the different requirements of each project. Cali shares, "We spend a lot of time in R&D and engineering our products so they're safe and can be installed anywhere."
The company's railings are available in seven different colours. The colours are baked, rather than powder-coated, to ensure a UV-resistant finish that will last. The final results strictly follow all federal and provincial building codes, in order to pass safety and inspector protocols.
Everything the business does is with integrity and dedication to the customer. Both Cali and Mattei describe how they go about bringing new products to the market. "We design all of our railings by listening to our customers and builders to see what they want and what they need." Cali says, "For example, when customers were asking for a wrought-iron railing, Alumarail designed a style that looked like wrought iron, but was made with aluminum."
Talking about the process that takes place at the start of every year, Mattei adds to this: "We sit down and look at our previous year, what we are missing and the needs of our customers. We try to have one new product every year."
While continuously developing products as an effective way to stay ahead of their competitors, another way Alumarail innovates is through introducing their do-it-yourself program. "A lot of people were coming to our showroom saying they wanted to install railings on their own," says Cali. "So, we go out and professionally measure the railings for their house, and we'll make everything is to size. When they pick up the railings, they install it easily, with nothing extra to cut down."
It's easy to see Alumarail as a consistent success story, but like building any business, there were challenges. "At the beginning, it wasn't as easy as it is today, because it was a new product," says Mattei. "We had to push on it and make people believe in it because no one knew about aluminum railings back then. This was a country built on … wrought iron and wood." Nonetheless, Alumarail had a fresh take on the products along with swiftly manufacturing the railings. Rather than bring the railings in from elsewhere in the country, everything has aligned for success.
Alumarail Manufacturing's upcoming venture is to extend its product across Canada and into the United States with the help and support of their distributors. They will continue in to develop new strategic ways to enhance productivity, as well as creating an effective way to help the do-it-yourself program by producing a step-by-step video.
In much gratitude to their dedicated employees, customers and dealers, who have helped to evolve the company, Alumarail can assure it won't forget what makes Alumarail Manufacturing the business it is today.
"Our customers are our salespeople," Mattei continues. "If we make them happy, they'll recommend us to others. For me, every client becomes a friend. I don't want to get a contract because of the price. We create partnerships that allow us to grow."
905-264-6400
www.alumarail.com
@alumarail