Isabella Chiappetta: Little Organetto Girl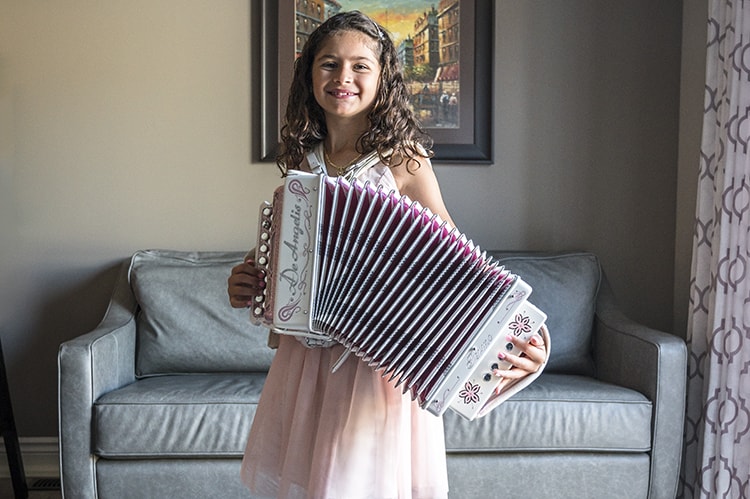 A 10-year-old's proficiency with the organetto is making her family, and the wider community, proud.
Acommon lament among the older generation is a worry that the fast-paced, multi-screen lifestyle of today's youth could mean certain long-standing traditions may be lost forever. This may certainly be true in music, where a generation living while wearing their earbuds may not appreciate the creative arts that came before them, and in some ways, laid the foundation for what they're listening to.
The exception may be Isabella Chiappetta, or as she's known on YouTube, "Little Organetto Girl." The 10-year-old from Woodbridge has been playing the organetto, or a small button accordion traditionally used in Italian folk music, for the past few years and is attracting quite a following, having appeared on local television shows and played at charity events and festivals.
"Our family was in Italy a few years ago and my dad's cousins were playing the instrument at a family party," says Isabella. "It was just lying there on the floor at one point and it was shiny and colourful and it had all these buttons, so I just picked it up and started pushing the buttons. It was really cool and it sounded different than most instruments." "She found it intriguing and interesting," recalls her father Gino. "We were all shocked at how quickly she took to the organetto. Just to pick it up and soak it all in blew us all away, and we were so proud she was carrying on this tradition." The medieval organetto was a portable, hand-pumped instrument, relatively lightweight and easily carried, often used in religious processions or other occasions. It was among the most popular instruments in Europe from the 13th to the 16th century.
Today, it is rather a unique instrument that attracts a lot of attention, most likely because of Isabella's proficiency with it. "It was pretty tricky to play at the start because I'd had no experience," says Isabella. "When I got one from my parents I practised every day at lessons and I still practise four or five times a week so I don't forget."
Gino is a food buyer with the Ontario Food Terminal and knows most of the local independent grocers. On Saturdays he takes Isabella to some grocery stores where she'll play for an hour, with a basket she picked out in Italy in front of her to collect money. Then all the money she collects goes to the Hospital for Sick Children. "Because the organetto is so unique people are quite generous, and she feels wonderful doing it," says Gino proudly. For Isabella, the organetto and the traditional Italian folk music she plays have a deeper meaning, even at her young age. "It makes me happy and it's part of my culture and I love that," she says. "It's good to dance to, but more important, I get to carry on an Italian tradition." For some of an older generation, to hear those words from a 10-year-old is music to the ears.