Dia: Fresh Like Limonata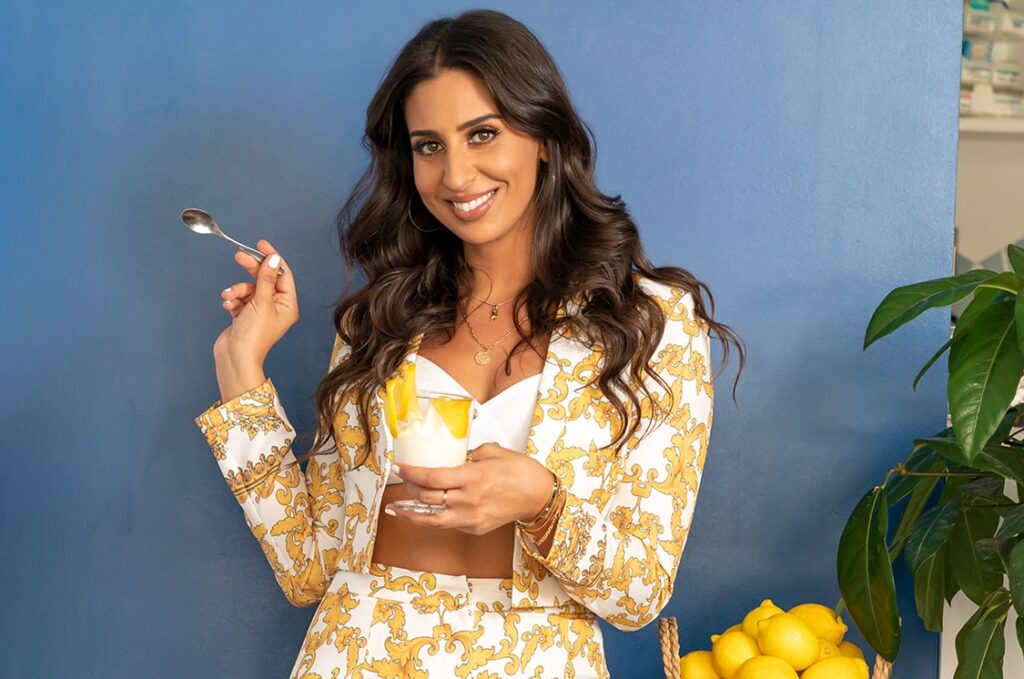 With an upbeat Latin and Mediterranean vibe, singer and songwriter DIA's new single "Limonata" will have you dancing all summer long.
Inspired by her first time in Italy, DIA got the idea for the chorus of her new single, "Limonata," on the back of her cousin Matteo's scooter scaling the cliffs of the Amalfi coast. Fast-forward to now, and "Limonata" has naturally come to fruition as this summer's "it song."
Q: Where did you grow up and did music play a big part in your childhood?
A: I was born and raised in a musical family, and it was all I knew! I thought everyone's parents went to gigs! We were surrounded by so many genres: my dad is a rocker, mom into disco, grandparents played traditional Italian music. Growing up in Toronto, I was exposed to so many gorgeous cultures, and I always found myself watching multicultural programming on TV. This definitely had an influence on my listening flavours.
Q: Do you write your own music? How do you get inspired when it comes to songwriting?
A: I adore writing poetry and music. It's my way of releasing emotions and remembering my feelings. My inspiration comes from all over. I'm so proud to write my own songs and be able to perform them for the world. Inspiration — words or melody first? Either/or, and sometimes both! My creative process isn't glamorous or romantic; ideas and inspiration can come out of nowhere … I could be in the shower or paying for parking. When it hits, as long as I have a piece of paper or my phone to record a voice note I'm good to go. Sometimes the words and melody come at the same time (and fast). A perfect example of that is my latest single, "Limonata," where it practically wrote itself in 15 minutes! In my head it was a finished song, and it just made sense.
Q: How would you describe your voice?
A: I think my favourite word to use to describe my voice is "versatile" because I like to sing almost everything (except classical opera, ha-ha. I mean, I can fake it, but it's definitely not my thing). I thrive in pop, R & B, jazz, rock, alternative and more. I love to sing so many different styles, genres and languages, and I really enjoy adapting my voice to suit what I'm singing. Generally speaking, though, I'm an alto with a pretty broad range of tone and dynamics. Variety is the spice of life!
Q: Wow! You are able to sing in 32 languages. That's very impressive. Which languages do you enjoy singing in most and why?
A: Thank you! Learning languages has always been a big part of my personal curiosity. I am obsessed with challenging myself to learn new things (like languages) and putting them to the test (performances). It's such an amazing experience to learn about and then become a part of a community. I've sung a lot for Iranian, Latin, Chinese, Jewish and, of course, Italian events.
Q: "Limonata" has such a beautiful Latin and Mediterranean vibe — how do you relate to the song/lyrics?
A: I really wanted to capture a fun, fresh and zesty feeling (pun intended) in a cheeky way and play with some puns. For example, "limonare" is an Italian word that describes kissing passionately. Puckering with the taste of lemons and the zest for life … this song for me is what Italy feels like: open-hearted, addictive and delicious!
Q: You've headlined at many festivals throughout Canada, the U.S., Europe and Central and South America. What do you love most about performing?
A: I live for performing. I adore being on stage, connecting with audiences and putting on a super-energetic and memorable experience for everyone. I don't have a preference for audience size because there are benefits to each — more intimate shows allow for a personal experience, and the large audiences bring so much energy — I don't stop dancing! Singing live is my favourite thing to do.
Q: What are your goals within the next five years?
A: In the next five years I will be performing around the world, releasing more music and expanding my entrepreneurial side!
Q: If you had to say which artist has a similar sound to you, who would you say?
A: I think my sound varies song to song, but taste-wise, I would say Shakira, Jennifer Lopez, Lady Gaga and Dua Lipa.
Q: What makes you stand out from other performers?
A: I really like to engage with my fans and listen to what they have to say in different communities around the world, listening to their stories and reflecting it in my sound … versatility!
Q: Which artists inspire you and why?
A: Since I was a little girl, I've been inspired by my mamma, Manuela, who is an insanely talented singer (I still can't hit some of her high notes, but I'm working on it, Mommy). I remember watching her do her makeup to get ready to sing every weekend and listening to her practice. Every time, she would tell me, "One day you'll do this, too." And here I am!
Q: What is your favourite music of all time?
A: • Bolero, by Ravel
• "The Show Must Go On," by Queen
• "E poi," by Giorgia
Q: What's your favourite meal?
A: PASTA! Any kind, any sauce, just not bucatini … it doesn't make sense to me why someone invented spaghetti with a hole … They're hard to eat!
"I live for performing. I adore being on stage, connecting with audiences and putting on a super-energetic and memorable experience for everyone"
Q: What is one thing people would be surprised to know about you?
A: 100% the size of my appetite. I LOVE TO EAT. I'm a super foodie and love to cook!
Q: What is your favourite lyric?
A: The Show Must Go On, by Queen
Q: What is your favourite love song?
A: "Vivo per lei," by Andrea Bocelli and Giorgia
Q: What is the definition of happiness to you?
A: My definition of happiness is being surrounded by genuine people I love and waking up every day motivated to do something I'm passionate about … And eating delicious food.