Aysia Ianiero: For The Love Of Dance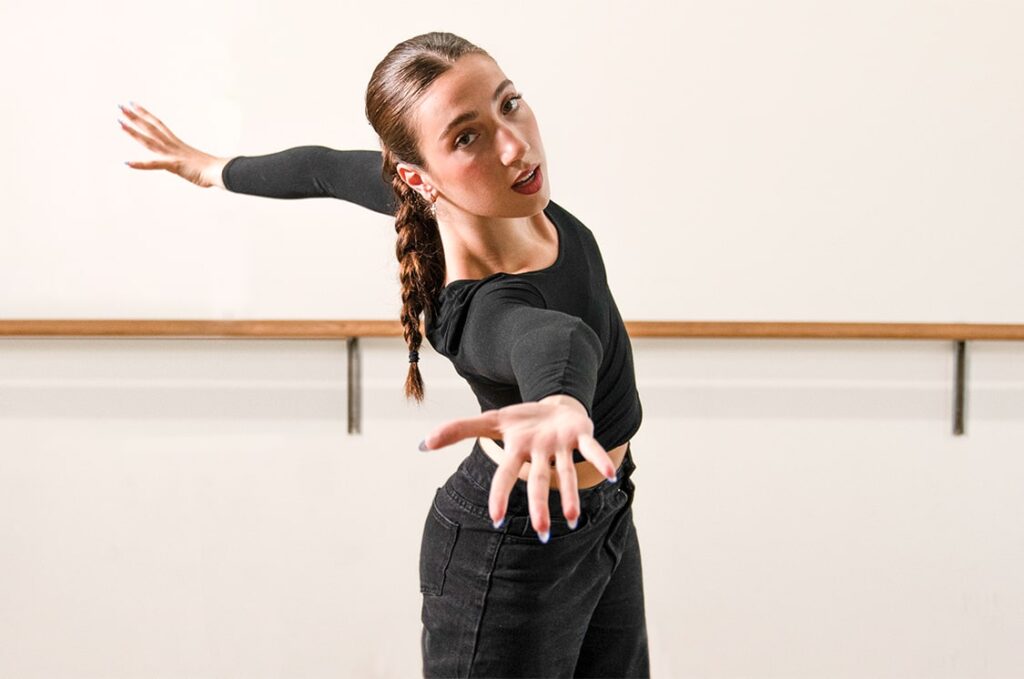 Aysia Ianiero grew up in a family that owned a dance studio, Art and Soul Dance Company. Was she thrown into dancing? Yes. Is she grateful? Yes. Does she love it? Yes, yes and yes! Fuelled by her passion, this girl is fire. You could say she's unstoppable — and she has some very big plans for herself. It all starts with the dancing.
As Aysia Ianiero was growing up, it was almost impossible for her to grasp the truth. Was dancing really her passion, or was it just what she did because it had been part of her family for so long? "Gratefully, I fell in love with it immediately!" she says. In fact, the older that Ianiero gets, the more her passion grows, and she realizes just how much having her mom and aunt running the dance studio meant. "I know that, with all of the drive and all of the passion, that I would have created relationships on my own," she says. "But having people that are related to you that push for you just as much as you push for yourself has definitely opened so many doors for me."

The 20-year-old has just graduated out of the competition dance scene, and she's hoping to take her career to the next level. No one can doubt her dedication. When she was just a toddler, her mom enrolled her in pre-ballet and pre-jazz, and she competed with a solo number at a competition when she was only three years old. As she got older, she practised more and more, spending many hours at the dance studio, inspired and motivated by the older kids who were there. "I would start dance at four, and finish around seven or eight, then just sit in the studio and watch the classes for the rest of the night," she says. "So I was a studio baby for sure — I literally grew up in that studio. I was there more than my house."
Perhaps the most amazing thing about Ianiero is her diverse range of dance styles, including jazz, tap, ballet, hip hop, acrobatics, modern and contemporary. And that's because she has trained not only with teachers at Art and Soul, but also with teachers and choreographers in the United States and Europe.   is has allowed her to put a few feathers in her cap, winning numerous competitions, appearing in Kenny Ortega's Julie and the Phantoms on Netflix, and having the opportunity to dance for pop star Tate McRae at the 2020 MTV VMAs. And Ianiero is good, so good, with all of it. "Something that my mom has told me is to never close any doors," she says.
Ianiero has drawn inspiration from other dancers at the studio, and she has a few icons in the industry whom she finds super-motivating as well, people like Justin Timberlake, his choreographer Marty Kudelka and one of his dancers, Dana Wilson.   e list goes on, including Stacey Tookey and Tyce Diorio, choreographers on So You Think You Can Dance. She knows that the industry can be cutthroat, so she chooses her heroes accordingly. " They are all humble and hardworking and kind, and this is why people want to work with them," she says. "It's because being a nice person is No.1, nothing beats that in my opinion."
"You know, I would fight her on it, and sometimes I wouldn't want to do it, but if I hadn't, then I wouldn't be where I am now"
She's proud to be Canadian, and she wouldn't change it for the world. "The Toronto community is so family-driven, and everyone has each other's backs," she says. "I think you can pick Canadian dancers out of a room any day. It is the work ethic and drive that sets them apart, because they have to work so much harder to achieve their goals — they are all grateful and positive and so motivated," she adds.
Currently, Ianiero is teaching dance to kids, but she has big plans for her future. She would love to do more work in film, and she is signed with two agencies, one in Toronto and one in California. She's working on getting a work visa to the United States so she can move to Los Angeles. As for what she'll do when she gets there? "I have dreams of doing award shows, and dancing in scenes of big movies and TV shows, and I love music videos, too," she says. Really, she is up for just about anything.
Ianiero is grateful for many things, but is especially for her mom telling her how important it was to keep going when she was growing up. "You know, I would fight her on it, and sometimes I wouldn't want to do it, but if I hadn't, then I wouldn't be where I am now," she says. "I owe it all to her and the studio."

@aysiaianiero

INTERVIEW BY ESTELLE ZENTIL