3 Girls And Their Closet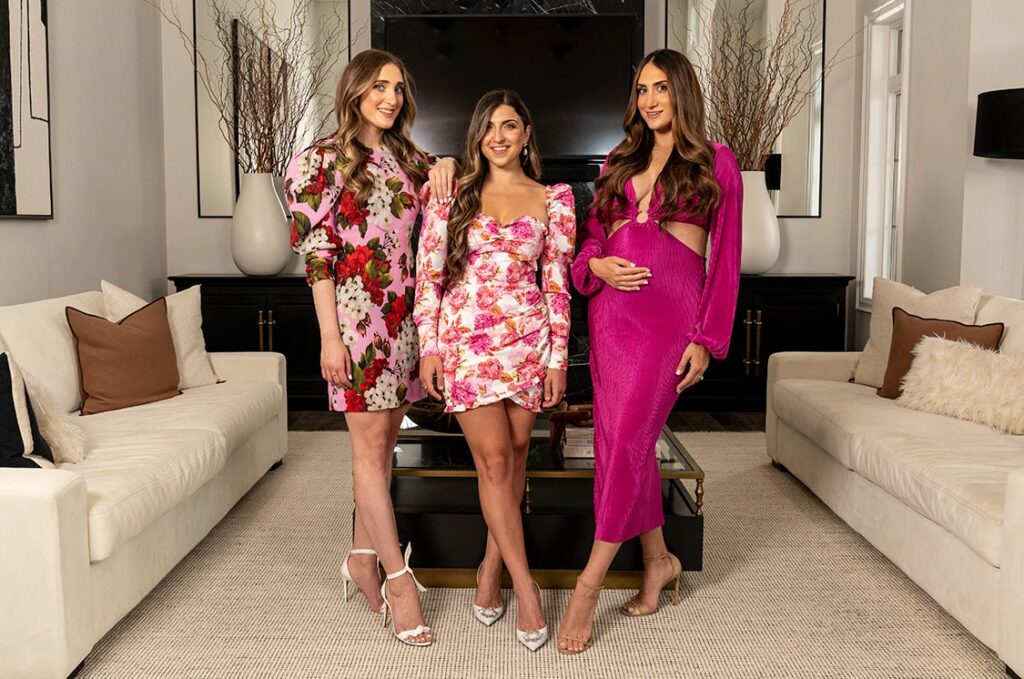 Sisterhood is a beautiful thing. Defined as "the solidarity of women based on shared conditions, experiences or concerns," it's safe to say that the Antonangeli sisters are a great example of the meaning of sisterhood…
If you're lucky enough to have a sister, then you understand what an important bond you share. For the Antonangeli sisters, who all went to the same elementary school, high school and university, and share a love for fashion, it's safe to say that they share memories (and clothes) that will last a lifetime.
We spoke with the trendsetting sister trio on everything from their holy- grail beauty products to their go-to Starbucks order.
Q: When did you decide you wanted to share your lives in an intimate way via social media?
A: We decided to start sharing our lives on social media in 2013. We have always shared a love for fashion and have always loved to dress up and experiment with our personal styles. During this time, we each began to establish our own style and would frequently get asked by others where we got our clothes. We thought it would be fun to start an account on Instagram where we could post our daily outfits and tag where everything was from. We have been on social media ever since and have now expanded our page to be a place where people can go for fashion and lifestyle content! We share everything with our followers, from our daily outfits, to weddings, travel destinations, home décor, food and, most recently, pregnancy style!
Q: What do you love about sharing content?
A: We love sharing content because it allows us to express ourselves and use our creative side — we each have jobs separate and apart from our social media, so getting to do this together is so much fun! We also love that sharing content allows us to connect with people who have similar interests as us. We have met so many amazing people along the way and look forward to meeting many more people as we continue to grow!
Q: If you had to describe each sister using three words, what would they be?
A: Cassandra: kind, creative, loyal. Aly: determined, fun, loving. Nadia: calm, caring, intelligent.
Q: What is your most fondest childhood memory growing up as sisters?
A: Getting to dance together on stage is definitely one of our most fondest childhood memories growing up as sisters. Driving to dance competitions, having sleepovers at the hotels and then getting our makeup done was always so much fun. We will always cherish the time we spent together and will never forget the pep talks we would have with each other before taking the stage!
Q: What do you love about sisterhood?
A: We love that we always have someone to talk to about anything and everything. We are constantly asking for one another's opinions and sharing ideas with each other! We are inseparable, talk 24-7 and have each other's backs no matter what. As a bonus, we are similar in size, so we can share most clothes, shoes and accessories! Triple the closet is definitely more fun!
Q: Who are some of the style icons you look up to?
A: Hailey Bieber, Xenia Adonts, Negin Mirsalehi and Morgan Stewart. Q: Cassandra, what are your biggest tips when it comes to wedding planning?
Q: Cassandra, what are your biggest tips when it comes to wedding planning?
A: My biggest tips when it comes to wedding planning are to enjoy every minute of the planning process, stay organized, and focus on things that are most important to you and your partner. I would definitely recommend having a planner or a day-of coordinator; this way, you can enjoy your special day without worrying about the little things! Remember, the day comes and goes so quickly, so try to be present and enjoy every moment. It truly is one of the best days of your life!
Q: What are some of your favourite family traditions?
A: Family dinners at home are one of our favourite family traditions. When we were growing up, we always ate dinner together at the table as a family every night. Now that we are older and one of us has moved out and another is moving out soon, our nights in as a family are something we will cherish forever. We also love taking family vacations and always have a blast when we are away together. There really is never a dull moment with our family, so trips are always filled with lots of laughs!
Q: What are some exciting events in your lives that you will be sharing next?
A: We have many events coming up that we will be sharing with our followers: Cassandra's baby shower, Aly's bachelorette, Aly's bridal shower and Aly and Rob's wedding! It is a busy time of year, but we are looking forward to all the events.
Q: What are your go-to Starbucks coffee orders?
A: Cassandra: Venti black tea lemonade with one pump of sugar. Aly: Grande non-fat latte. Nadia: Iced venti non-fat latte with an extra shot of espresso.
Q: What are your top three stores for shopping?
A: Revolve, Zara and Aritzia.
Q: If you each had to describe your own style, what would that be?
A: Cassandra: Elegant, feminine and chic.
Aly: Cool, bold and edgy.
Nadia: Simple, modern and effortless.
Q: What are your favourite beauty products this season?
A: We all love the Glowscreen by Supergoop! Some of our other goto items are the Contour Wand, Highlighter Wand and Pillow Talk Lipstick by Charlotte Tilbury. We also love our Facial Ice Roller for skin care.
Q: What are some of your most prized pieces in your wardrobes?
A: Our most prized pieces would definitely be our shoes and purses. We truly think that these items are worth the splurge, as they are statement pieces that can elevate any outfit. Unlike a dress or an outfit, shoes and purses can be worn time and time again!
Q: What is your necessary indulgence, something you can't live without?
A: All three of us are ice cream lovers. This is something we definitely cannot live without!
Q: What are your top three restaurants from the city you're from?
A: Osteria Giulia (Italian), Mamakas Taverna (Greek) and Patois (Caribbean- Asian fusion).
Q: What is the craziest thing you've done for beauty/fashion?
A: We have had to change our outfits in the car while shooting looks for content. Hiding from the public and making sure no one sees you changing is harder than it sounds!
Q: What are some of your favourite podcasts to listen to?
A: The goop Podcast, The Skinny Confidential podcast, Crime Junkie, Armchair Expert, In House With Arielle Charnas and Life with Marianna.
Q: How do you each define happiness?
A: Cassandra: Living every day to the fullest and being surrounded by loved ones.
Aly: Feeling at ease, content and in the moment.
Nadia: Being surrounded by those who support and encourage me to be the best version of myself.