Canada's Newest Mr. Nice Guy – Shawn Mendes
With a back catalogue of hits and a host of multimillion selling albums to his name already, it's easy to forget that Canada's latest hot-shot musical export — and all-round affable celeb — Shawn Mendes is only just out of his teens and has the world at his feet.
Shawn Mendes may well be a pop icon, but the 21-year-old Canadian has had to contend with all the trials and tribulations brought on by mass adulation and the pressure to perform to his own heightened expectations. It's a relatively common theme among the young stars spearheading today's hugely open world of celebrity music, but thankfully, for this self-taught singer-songwriter, the worst is behind him, and he is now poised to take on the world.
"There was a moment when I thought things were going too fast, but then I realized that it's much better going fast than slow in this world," Mendes says. "You might as well just embrace it. We're so focused on the future, we forget to look at the beautiful parts of what we're living right now."
He adds: "Every day I wake up and I'm, like, 'Dude, you're doing what you love to do for a living,' and I really have nothing truly to worry about at the moment in life."
The native of Pickering, Ont., has plenty of accomplishments to ease any concerns over what the future might hold. Having begun his extraordinary musical ascent at age 14, he's already a veteran of three world tours and three hit studio albums under his belt. On top of that, last summer he became the first artist in history to have four No. 1 pop hits before his 20th birthday when his single "In My Blood" soared to the top spot on the Billboard charts prior to scoring a Grammy nomination.
Having started out as yet another aspiring teen singer posting cover songs on Vine and YouTube, then as a young artist on Island Records, he made the transition into the mainstream with three LPs that debuted at the top of the Billboard 200 chart. Along the way he's performed for Queen Elizabeth, all the while gaining millions of devoted teen followers on the back of his neon smile, skinny jeans and engaging personality. His list of hit tracks include "Stitches," "Mercy," "Treat You Better" and There's Nothin' Holding Me Back, all of which have become fixtures on mainstream radio playlists in North America and beyond.
Now Mendes is also on track to become one of the top-selling musicians of all time, with 11 million albums and 110 million singles already sold. His songs have also been streamed more than 11 billion times, and he's amassed more than 40 million followers on Instagram. It's no wonder, therefore, that last year saw him create a sensation by playing sold-out concert dates at New York's Madison Square Garden, London's O2 Arena and performing for 120,000 people at Brazil's Rock in Rio festival.
Having spent a lot of time watching how Taylor Swift put on precisely choreographed sets while serving as her opening act in 2015, Mendes understands that developing and growing one's fan base involves more than simply showing up for the gig.
"People forget how important groundwork is — physically being in every city, meeting people — it's like you're in a presidential campaign. I've known nothing but that since I was 15, so it's not like I was at one time very private and now I have to be open. I've always been like that. I don't find it hard or disruptive, and I think I'm OK with it — until I'm not, anyway."
Like many young artists, Mendes is aware of the risk of being swallowed up by the kind of meteoric career trajectory that has brought him to this point. Anxiety issues notwithstanding, he is also all too aware of the importance of distance. Alongside being dedicated to providing the very best experience for his fans, Mendes is keen to not get caught up in the hype and glory, and he has no intention of cracking under the spotlight.
'I just make sure I always keep my family and friends close, and that I keep good people around me'
"I just make sure I always keep my family and friends close, and that I keep good people around me. It hasn't been hard for me; it just has really been about making sure that no matter what, you are able to look at yourself in the mirror as things go on and make sure you stay the same person."
Adds Mendes: "I know what I owe the public, but I still manage to have a private life. As soon as I go home to my parents in Canada, I turn my phone off for two days. I also don't go on Instagram or do anything that takes me out of a very ordinary place, where I can just be myself. That helps keep me calm."
Blessed with a tousled-hair wholesomeness, Mendes's affable persona and squeaky-clean rep have so far distinguished him from fellow Canadian recording artist Justin Bieber, as well as some of the bigger names in the pop world who create as much controversy as they do music. Mendes, meanwhile, is much more in tune with the more benevolent image of the Great White North that has propelled stars like Ryan Gosling to such esteemed heights among the adoring public, and he's determined to
conduct himself accordingly. "Just do it and [let the fans] take the photos and answer the questions," he says. "And live the life that you have because that's what it is. So just own it and be grateful for what you have and then ignore what you don't have, you know?"
Not that he has much time for relaxation for the rest of the year. Mendes kicked off his Shawn Mendes world tour on March 7 in Europe that will see him play more than 70 concert dates, including a full summer schedule of stops in all major North American cities, with Canadian performances in Vancouver, Edmonton, Ottawa, Montreal and Toronto. The tour is in support of his self-titled chart- topping 2018 album, which followed his previous LPs Illuminate (2016) and Handwritten (2015).
Mendes is appreciative of his Ontario roots — he still lives in the Toronto area — and feels a responsibility to carry on in the footsteps of so many internationally renowned Canadian artists.
'I also want to make a difference in the world. I want to help, and I want to use my voice and use music to take steps forward and help people take steps forward'
"Many Canadians have had a real impact on music. I'm thinking of people like Justin Bieber, Drake, Alessia Cara or The Weeknd, for example. I can't explain what brings us together, but there is something special, it seems to me."
And although he has a recording studio in Malibu, Calif., he has no intentions of moving to Los Angeles, where most major entertainers wind up. "No way," is his answer to that notion. "My mother has accepted the fact that I need my own apartment, and I'm planning on staying near Toronto."
One of the most impressive and refreshing aspects of Shawn Mendes is that there's not an ounce of pop star arrogance or entitlement to him. He is the real deal when it comes to being a decent human being who believes in leading a life based on "honesty and authenticity."
Part of the pressure he admits to putting on himself stems from his ambitious nature that makes him want to be a positive force on the world stage that goes beyond simply creating memorable pop melodies. He is committed to using his voice in the broadest sense "to evolve as an individual" and to connect with his fans in a meaningful way.
"I also want to make a difference in the world. I want to help, and I want to use my voice and use music to take steps forward and help people take steps forward."
In recent years, Mendes has spoken openly about his battles with anxiety. He has also tried to explore some of the darker thoughts that gather in his head on days when it is "difficult to get out of bed." Last year, Mendes went public about his decision to see a therapist to deal with his psychological issues. He would explain that he was tired of having to go through wild mood swings, which would strike suddenly and leave him emotionally exhausted.
"For me, it was, you know, being overwhelmed and kind of feeling like, you know, there's mornings where you feel like you can't get up and do what you gotta do," he says. "It's not this thing where you find yourself lying on the ground for a month. It's one day you feel great, and even maybe in the morning you feel great, then in the afternoon you feel like everything is crashing down around you."
Nowadays, Mendes also relies on a regular fitness regimen to help him stay as clear-headed and focused as possible, while he deals with the demands of touring and living up to his own lofty expectations for himself.
"In reality, I lead the healthiest possible life. I exercise every morning and I eat try to eat well. I know that this business has damaged a lot of incredible performers, and I want to look after myself."
He certainly seems to be doing everything right, even going so far as making a solid impression on American audiences when he spent a week as musical artist-in-residence on The Late Late Show with James Corden in Los Angeles.
And, of course, no musical collaboration with Corden would be the same without the inevitable Carpool Karaoke drive, where the pair belted out some of Mendes's biggest hits, the young star following on in the esteemed passenger-set from the likes of Ariana Grande, Adele, Red Hot Chili Peppers and fellow Canadian heartthrob Michael Bublé.
Youthfully gangly at 6-1, Mendes enjoys spending weeks or even months at a time in California, where he has a recording studio that offers majestic views and a chance to wander along some of the best beaches in the world.
"If I'm in a writing rut, my favourite thing to do is to travel. I get most of my ideas on very busy weeks when I'm travelling through Europe or South America — that's where my inspiration comes from. I just write my ideas down and bring them with me to L.A., where I write at the studio in Malibu."
"The studio has one of my favourite views in the whole world. You're up on a mountain and you can see the whole cliff down the Pacific Coast Highway and all the way into the city."
Now in the midst of his tour, Mendes is squarely in his element. Still a babe when it comes to the concert tour grind, he is youthful enough to be able to enjoy the wandering life of the gypsy musician, including the joys of lavish hotel suites, 24-hour room service and the chance to see some of the most culturally celebrated cities the world has to offer.
"I'm addicted to the road," admits. "As much as I love being home in Canada, I'm there for five days and then I can't wait to get away again."
---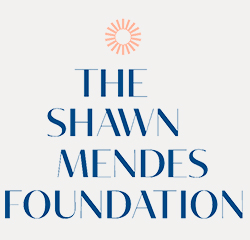 Shawn Mendes Launches The Shawn Mendes Foundation
The multi-talented Canadian singer/songwriter Shawn Mendes has just announced The Shawn Mendes Foundation (SMF), with US$1 million in funds upon launch.
Announcing SMF on Instagram, Mendes wrote: "For a long time, I've wanted to find a way to amplify the causes that my fans care deeply about, and to further help them make their voices heard. Our generation has the power to change the future of our planet, and to help carry that change forward for so many generations to follow. With that, I'm so excited to announce the launch of The Shawn Mendes Foundation, to support causes that are important to my fans and our generation. I will work alongside my fans to help provide them with a platform and the means to give back and take action."
The foundation will help support many youth-related causes such as children's health care, sustainability, mental health and wellness, human rights, anti-bullying, education and more.
The SMF's first two campaigns will be with SickKids in Canada, a Toronto-based organization close to Mendes's heart, and REVERB, an environmental non-profit that engages fans to take action for people and the planet at concerts and beyond.
The foundation's funds will go toward supporting its partner causes and others that affect Mendes's audience. SMF will also work to provide tools to help Mendes's audience learn, donate, volunteer and spread awareness around the issues important to them.
 
For information about The Shawn Mendes Foundation, including how to donate, visit ShawnMendesFoundation.org