Anna Lolomari: An Unmatched Zest For Life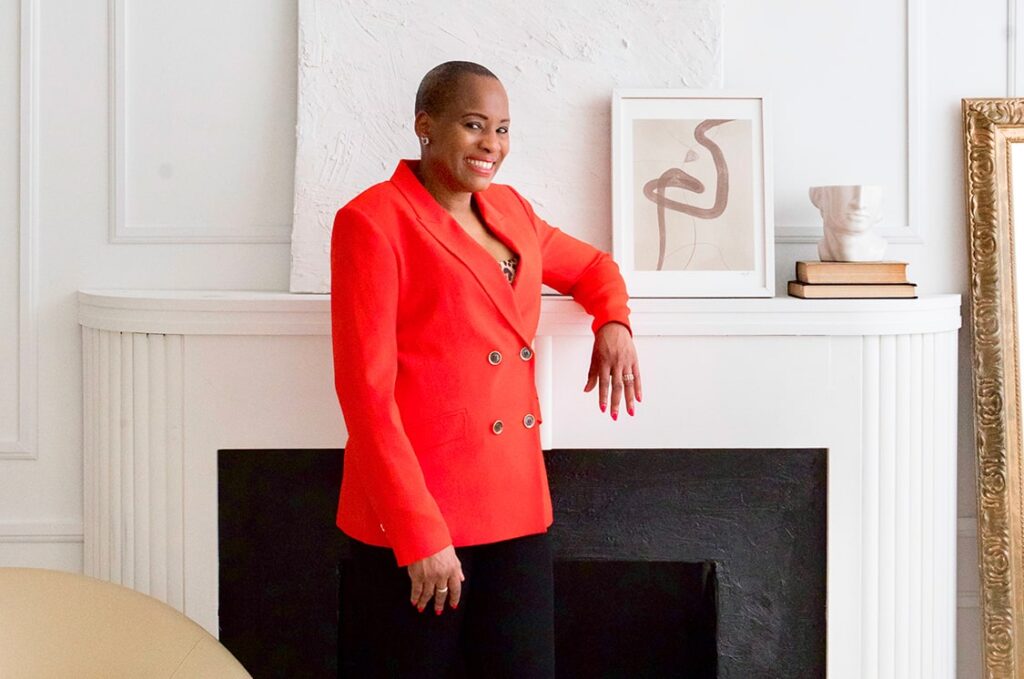 Anna Lolomari is a lifestyle refiner, redesigner and refresher.
What does colour mean to you? To Anna Lolomari, it's everything her brand Zesty Lifestyle stands for. "Colour brings so much beauty into a space, colour brings happiness, colour is uplifting, colour is motivating, colour just gives you this happy feeling inside just wearing it, and that is how Zesty Lifestyle came about."
If you scroll through Lolomari's Instagram feed, her exuberance and positivity are contagious. Her welcoming smile, bold fashion looks and passion for design shine through her photos, emanating her positive aura and joie de vivre.
As an interior refiner, redecorator and stylist, Lolomari works with women to repurpose their lifestyle and mix the old with the new. "I come into your space and I refine it with the things you have and then I incorporate the things you need. Instead of throwing out the old and saying it doesn't work, I find a way to make it work in the space or in the closet."
The key to Lolomari's success, she believes, comes from the way she presents herself to the world. "My success story today has been my image and my presentation when I step out of my home. I have met clients just going grocery shopping or just walking to a restaurant. So, I think image, our self-image, is so key to everything we do. You never know who you're going to meet: it could be your partner you're going to meet that day, it could be someone who needs that happy moment just by seeing you all dressed up. It will give that person you know that zest for life."
ON THE POWER OF FASHION
Coming from a Nigerian background, it was ingrained in Lolomari from an early age that beauty is important as a woman. "Fashion has been a big part of a woman's life in Nigeria. I find that fashion gives you that grace to exude who you are, your beauty. I find when I dress up — the beauty of fashion, the colour, the texture — it just reminds me of my gracious beauty I was created to be, my feminine side. It just makes me exude my beauty and exude who I am as a woman," says Lolomari.
For the style guru, the clothes she wears go deeper than physical appearance and have helped her tune into self-love: "Fashion made me realize that it's all about self-love. It's about taking care of myself. It's about looking good for me. When I wear a dress, I feel and look so beautiful, I don't need someone to tell me I look so beautiful. I feel like the dress is telling me I look so beautiful, and it's empowering me."
With many women working at home, Lolomari believes wholeheartedly that dressing up can be a motivating and uplifting tool. "If you're working from home, once you don't try to dress up, it takes your energy away. But when you wear a nice blouse, put on a light lipstick, spray some nice perfume, wear some nice heels, it gives that confidence to talk on the Zoom call, or the confidence to go about the day. I find that when you just give yourself that little touchup every morning working from home, it does help your productivity. It gives you that energy, it gives you that positive feeling to keep going."
INSPIRED BY TRAVEL
Having lived on six continents, including Africa, Europe, North America, Southeast Asia and the Caribbean, Lolomari has been able to experience each foreign country's culture, sparking her expressiveness and creativity. "All my inspiration from style comes from travel. When you travel, it opens up your mind, it broadens your mind of other people's culture. You learn a lot, you learn texture, you learn colour."
"Fashion made me realize that it's all about self-love. It's about taking care of myself. It's about looking good for me"
With a joyfulness walking through life, Lolomari sees every opportunity to appreciate and learn from each culture and apply it to her style and work. "You know, when I go to Turkey, when I go to Brazil, when I go to Trinidad and Tobago, China, Thailand, it's my observation as I go about my day, either in a marketplace or walking the streets, it's paying attention to how people are living. Take the spice market in Turkey. I walked into the market and saw those different spices and was just saying to myself, 'Imagine those spices in your wardrobe in terms of colour, how that just brings beauty to everything.'"
A MOTHER'S INFLUENCE
As little girls, we often observe and follow what our mothers do. Once we get older, and as we reflect on the past and look back at the subtle memories with nostalgia, it is only then that we can appreciate the impact they left on us.
For Lolomari, her mother affected her in a subtle but meaningful way. "We came from a very difficult home: my parents were separated at a young age, and the only way my mother could find beauty through herself and give herself strength was to dress up, fashion, and take care of herself. I picked that up from her because I used to always say to myself, 'Why is it that she wakes up and takes such good care of herself?' She taught me that, no matter what you do in life, take good care of yourself, dress up and put on some lipstick."
ON REDECORATING A SPACE
Lolomari lends her advice when it comes to refining your space: "I always say a paint touch-up, updating your hardware and fixtures, bringing in accessories with pops of colour like art, plants, pillows, rugs — those are the little ways you can dress a space up."
Through her interior decorating services, including home decorating, staging refinements for resale and décor colour consultation, she harmoniously redefines a client's home, bringing all the elements together for a well-designed space.
ON REFINING PERSONAL STYLE
The fashionista recommends buying less, but investing in staple pieces. "It's more about buying timeless pieces. The easiest way to elevate your look is through accessories. But when I say accessories, I don't mean trendy accessories. I mean costume jewelry, scarves with colour, something that has colour, something that has print."
While Lolomari offers closet makeovers, styling and special-occasion shopping, an easy way to add zest to any wardrobe is by incorporating colour. "I try to tell women if they're looking for ways to try and find happiness and joy, mood-lifting colour brings that, and they shouldn't be afraid to express themselves through colour. It's so important."
ON CONFIDENCE
Lolomari hopes to make people feel happiness in their spaces and in their closet. However, in the end, she believes confidence is what really makes a woman feel and look her best. "You really need to let go, you really need to appreciate who you are, your beauty, believing in you. It doesn't matter who you are, it doesn't matter the experiences you've gone through. Once you can do that, then you know the confidence is the limit.