Canadian Heartthrob, Christopher Russell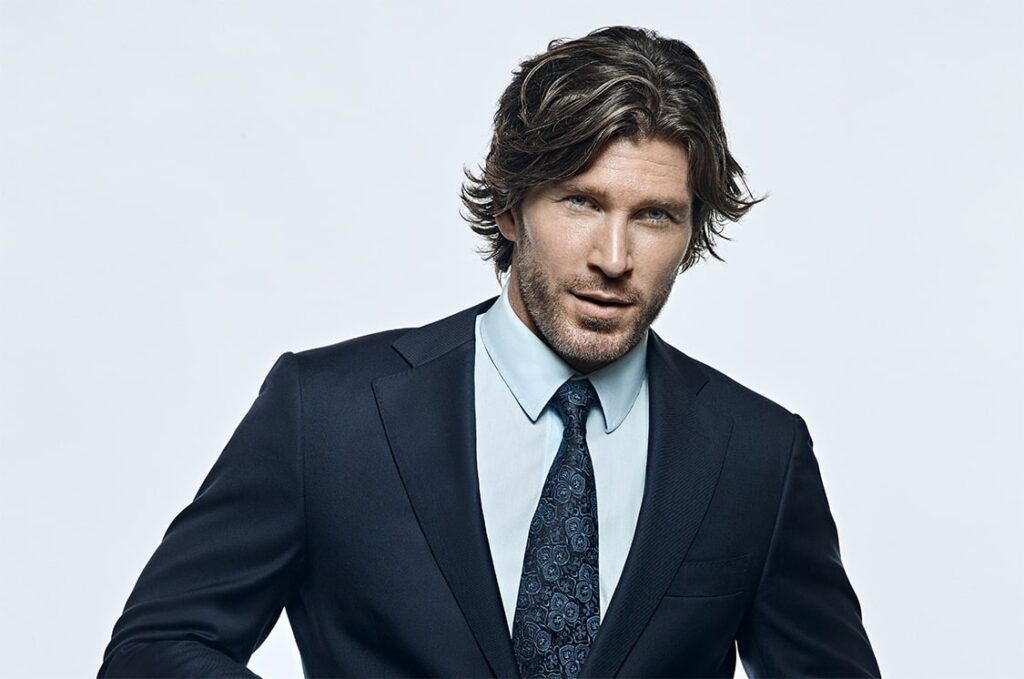 Christopher Russell talks about his latest role in SYFY's newest horror series, Day of the Dead, his favourite new Swedish fitness regime called "fartlek" and how he attributes his success in the entertainment industry to being authentic to himself. "If I've shown up and done my best, it doesn't matter what the outcome is".
From Toronto to Vancouver, Christopher Russell's talent runs coast to coast and started very early on — preschool. The exact moment? Starring as the donkey in a nativity scene. "There was the lamb, Mary, Joseph and the whole bit, and I got cast as the donkey. I got the ears, the tail and I just vaguely remember coming out, and all the parents, the audience, just laughing with me, not at me, because I was being funny and cute as this donkey. And whatever that feeling was, I was like, "I need more of this," laughs Russell.
Since his preschool nativity scene, Russell has had an impressive roster of roles that includes Supernatural, Star Trek: Discovery, Flashpoint, Van Helsing and Unreal — among many more credits.
Most recently, he has upcoming lead roles in Reacher and In Action.
Aside from his work onscreen, Russell devotes his time to his family, fitness and being present. "It's being content with where you are in that moment."
On the Acting Industry & Mindset
"This business has the ability to make you second-guess pretty much every move you make — it's a very strange endeavour we take. Auditioning is such a different thing than actually working on a set, so you have to create this audition muscle, where you go into a room, meet these people for the first time. You can charm them, win them over, make them feel like you're someone they'd want to work with and then immediately roll into the scene, knock it out of the park, hit all the beats and then say, "See you later." When you're on set, it doesn't work like that. You have multiple takes. If you mess up your words, you just stop and you backtrack, and there's so much support for you there. It is a lot more difficult to work on set because there are so many more variables, whereas auditioning is like a bubble. Even though there are a lot of noes, there are a lot of yeses, and so I try not to take it personally. If I've shown up and done my best, it doesn't matter what the outcome is, as long as I know that I did my best. If you're constantly trying to do something that's not authentic to yourself but what they want, that's not going to work out. You just have to give the best version of yourself."
On Zombie Thriller Day of the Dead
"Day of the Dead is not a remake so much as an homage to the George Romero original. I guess you can say there are six protagonists, so it's an ensemble, for sure. As the series starts off, each one of them is in a different location in Mawinhaken, and it's a big day for each one of them in their own specific way. There are all these different plots happening on the same day. One thing will lead to another, and it will get gory, it will get scary, there will also be some laughs, and these people will be brought together to fight off the ward of the undead. It's written and structured in a way that, at the beginning, you won't really see it coming. In addition to being action-packed, thrilling and quite scary, there are brief moments of humour. My character is definitely one of the providers of said humor. The story itself, each individual storyline, I don't want to go so far as to say it's satire, but it's certainly a commentary both socially and politically about different things that are happening in the world even today, and these things are sort of representing that in this small town.
"If you're constantly trying to do something that's not authentic to yourself but what they [others] want, that's not going to work out.You just have to give the best version of yourself"
On Fitness & Diet
"I used to go to the gym before COVID-19, and I'd have little circuits and then I'd go on the stationary bike, go in the sauna, but then the world shut down. This is how my mind works: The world is shutting down, I better get to Fitness Depot before they close and get some kettlebells. It kind of made me rethink the whole thing. So, when everything was closed, I was exercising outdoors and I was just figuring things out and now it's evolved into — it's got a funny name, it's a Swedish name, it's called fartlek. But what that is is when you're running long distances and instead of it being like an HIIT workout, where 30 seconds I go superfast, and for one minute I go superslow, it's kind of sporadic.
As far as diet goes, I try to eat as many things as possible that are organic and have very few ingredients. So, chicken and vegetables for the most part. I don't really eat grains, once in a while, but that being said, I do eat chocolate pudding once in a while, and pizza, and stuff like that. Generally speaking, in the day, it's just chicken, vegetables, eggs, and it's working for me."
On Happiness
"It's being content with where you are in that moment, being where you are on your own two feet, if that makes sense. Not being in your head, not looking forward or looking backwards, but just looking here. I find that if I'm thinking too much about what I need to do for the future, or if I'm thinking too much about what I could've done better in the past, then whatever I'm actually doing right now is just passing me by. But if I'm actually present in the now, then I'm pretty happy."