Two Sisters Vineyards: From Niagara With Love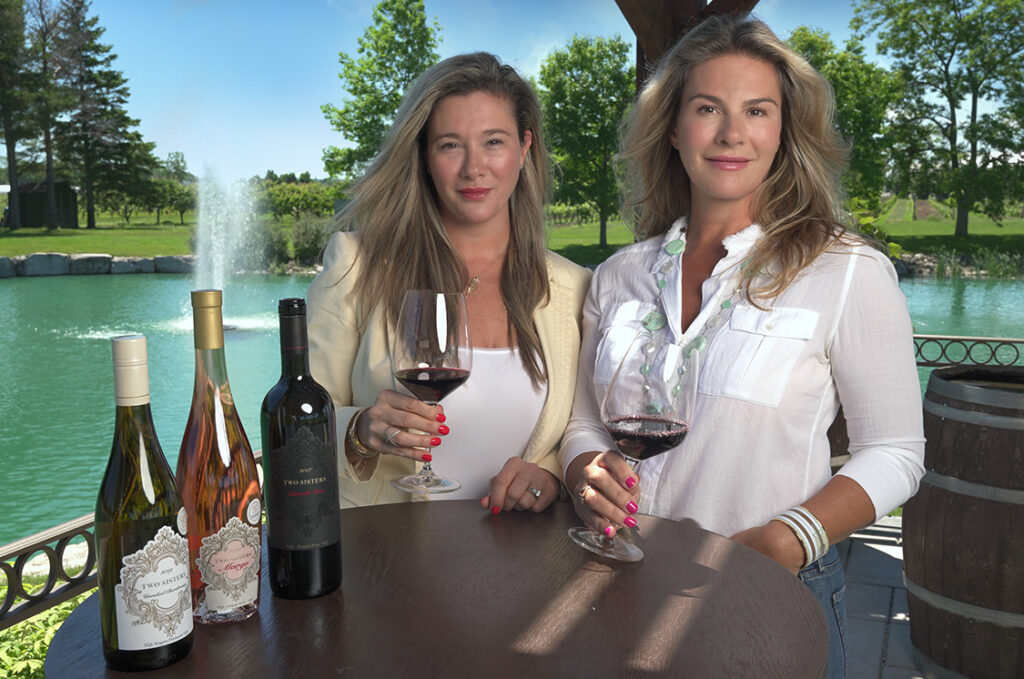 Sisters Melissa Marotta-Paolicelli and Angela Marotta have preserved their Italian heritage through Two Sisters Vineyards.
Inspired by their Italian heritage, the Marotta family possessed an unwavering vision of bringing a European touch to the quaint Niagara region, and with that, Two Sisters Vineyards was born. Located in the southern part of the sub-appellation of the Niagara River, its proximity to the river allows a constant flow of cold air, longer growing seasons and rich harvesting periods compared to other agricultural land. Two Sisters Vineyards commits itself to the highest standard in the farming of their vines and to a meticulous production process that ensures age-worthy wines that are well-received on the world stage.
Their winery and four vineyards (John Street Vineyard, St. David's Vineyard, Hunter Road Vineyard and Niagara Parkway Vineyard) span more than 130 acres. Planted varietals include Cabernet Franc, Cabernet Sauvignon, Merlot, Petit Verdot, Chardonnay, Riesling and Sauvignon Blanc. Each grape is handled with the utmost care and attention, from the vineyard to bottling. Although their vineyards yield about two to three tonnes per acre, the goal has always been quality over quantity. This mantra is exemplified by their multi-award-winning history, producing wines that are competing and winning gold medals at international competitions, including the 2018 and 2020 Chardonnays that won Gold at the Chardonnay du Monde competition in Burgundy, France.
Wine is the perfect gift whether the recipient is a family member, friend or professional colleague. That is why TSV offers a variety of gift packages that contain beautiful and timeless labels and branded magnetic or wooden boxes or carriers perfect for any occasion and that make a statement.
Their recently opened 11th POST on Queen restaurant, at 135 Queen St. in Niagara-on-the-Lake, features the highest quality ingredients transformed into elevated comfort food. They are also building a new winery, Stone Eagle, to feature their ultra-premium tier of wines, which are only produced in the best vintages. TSV also offers virtual tastings, allowing people across Canada to receive pre-selected wines and log on to join a sommelier-guided tasting session. Membership in their wine club, which already has over 1,000 members across Canada, offers wine enthusiasts unique experiences that allow them to explore their passion.
Two Sisters Vineyards continues to uphold their standard of winemaking perfection. Their impressive wines, which range from complex full-bodied reds to elegant terroir-driven whites, have established the company as a landmark vineyard in the industry. The Marotta family's passion for their winemaking techniques, as well as their dining experiences, tastings and tours, are the sources of their success. Every speck of soil, every grape on the vine and every bottle opened continues to push Melissa and Angela's mission of putting Niagara and Canadian wines on the world stage.
Two Sisters Vineyards wines are available at the Estate in the Wine Boutique, the on-site restaurant Kitchen76, and many restaurants throughout Ontario. Online ordering is available 24/7 through their website, with delivery to your door!
240 John Street East, Niagara-on-the-Lake, Ont.
905-468-0592
www.twosistersvineyards.com
@twosisters_vineyards