ArtWalk: SmartCentres' New Art District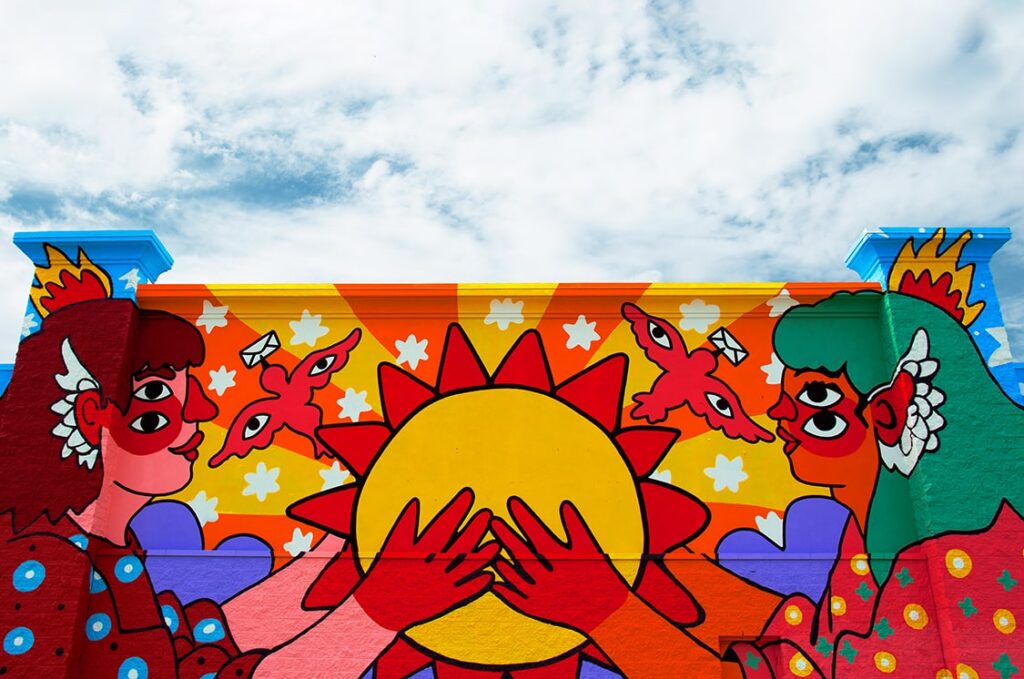 Summer of 2021 has given us the biggest and most colourful addition to SmartCentres' city centre yet; a brand-new cultural destination and art centre giant, christened ArtWalk. ArtWalk currently features a mass canvas of art along the walls of a previously vacant warehouse.
For the grand reveal of the new destination, located in the Vaughan Metropolitan Centre, all the outer walls of the warehouse were given as giant canvases to four international and local artists. In the span of three weeks, the four artists used more than 300 gallons and 1,000 cans of paint. Added all together, the murals total a colossal 30,000 square feet — making ArtWalk one of Canada's most ambitious art collaborations.
The southern façade of the warehouse was given to international creator Ricardo Cavalo from Madrid. Called, Here Comes the Sun, his work demonstrates many positive and optimistic messages. He uses clear and bold coloration to call upon everyone's inner positivity. Cavalo's mural focuses on sharing the inner light within each of ourselves in order to help each other through difficult times. It is a highly attractive piece, using both cartoon-like characteristics and the architecture of the building for natural theme and color breaks.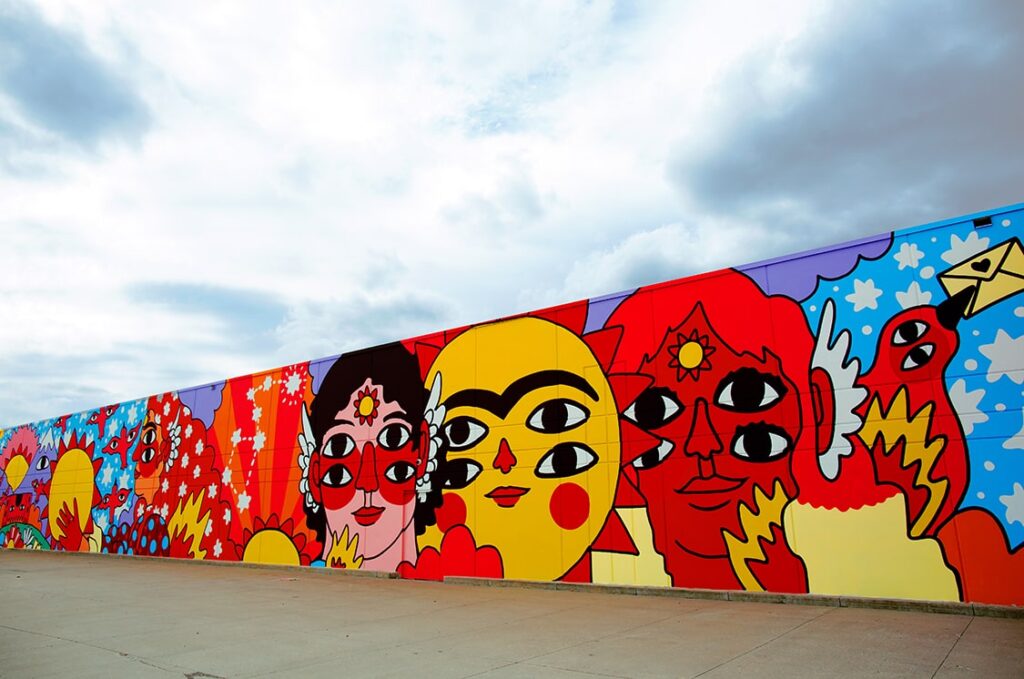 On the other side of the building, local Toronto artist Ben Johnston has painted the northern face. Better Together is a mural of reds and oranges, which features a typeface of the same words. Johnston's goal for the mural was to remind the viewer that life is finite and the experiences we share together will make that limited time a better one. To demonstrate this point even more dramatically, the message is a physical one, too. When standing close to the northern wall, it is hard to make out the message, even if you know the title of it. It is only by standing back, and taking in each piece of the mural, that viewers can see the full message — a message of humanitarianism and hope.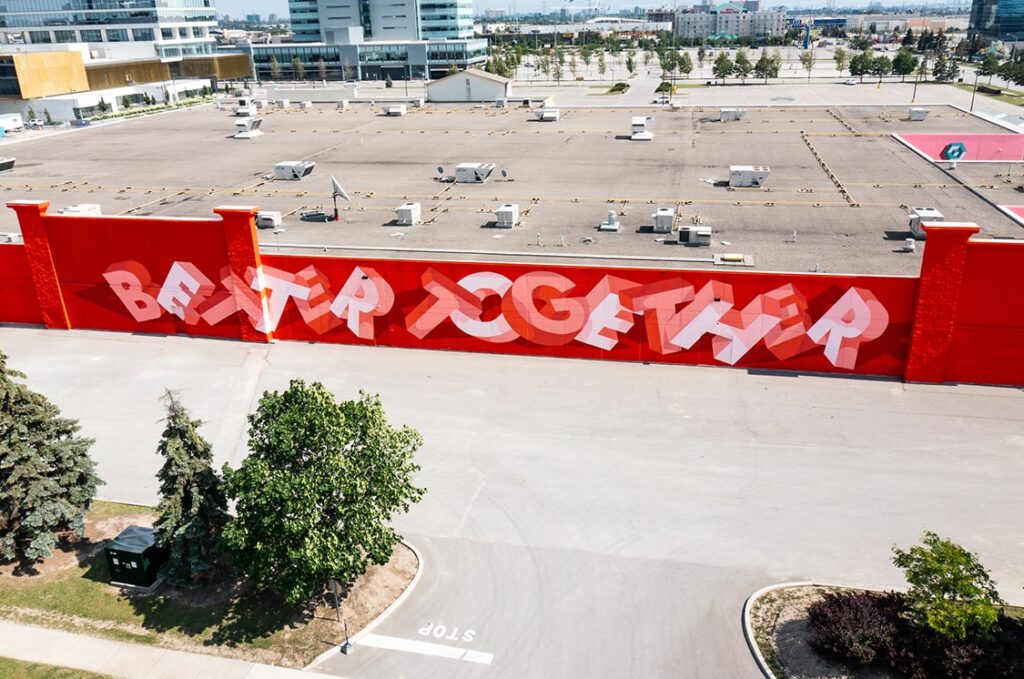 The sunset-facing west side is adorned in a soft pink, chosen by Toronto's treasure birdO (Jerry Rugg). On these soft pink walls, birdO has created his signature styles. Surreal bird heads look down on the viewer, while geometric shapes add contrast and dramatic movement to each scene. BirdO's work is known for techniques and unique subject choices; he often creates his pieces with an eye toward the local culture and environment. In the case of Birds of a Feather, birdO chose birds that are native to Ontario. Among them, a long-beaked kingfisher stands out, his massive red beak overtaking the largest prominent wall for his fascia.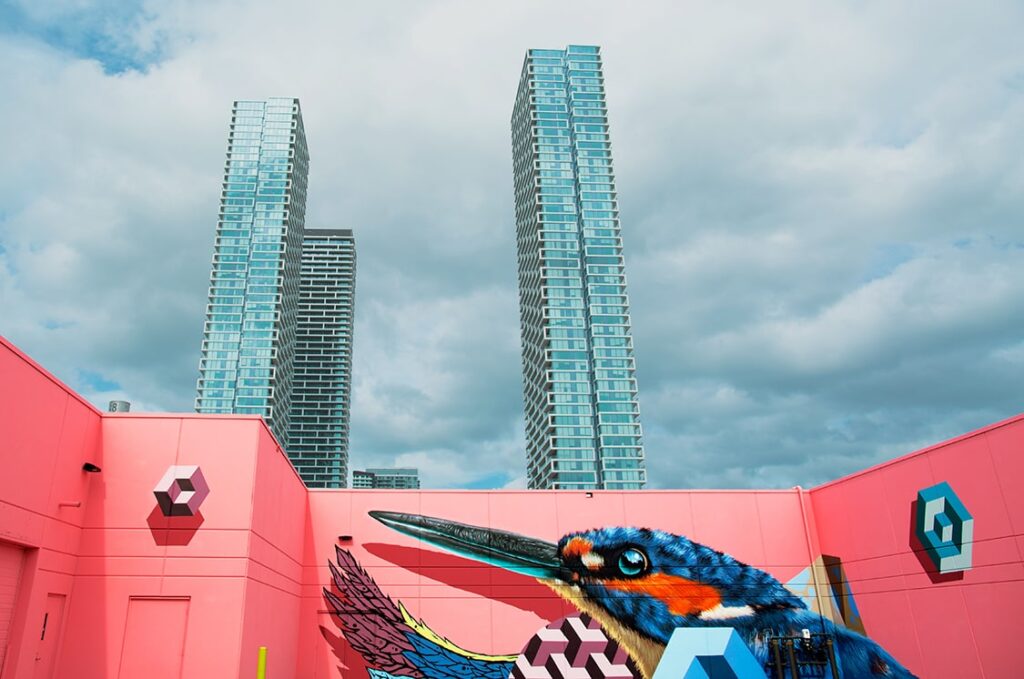 Finally, the eastern face of the warehouse was given to Jeremy Shantz, a Montreal-based artist whose style reflects abstraction and symbolism. Through the use of colour placement and contrasting styles, Shantz has created a figurative character; its parts detached and floating in a space of white and blue. Shantz's work utilizes the many styles and creative essences of those people in the local community. Through looking at his entire mural can all the pieces of the body be found and put back together, although each person may find a different way to do this. Shantz's liminal space is a landscape for creation and a call for communal togetherness from afar.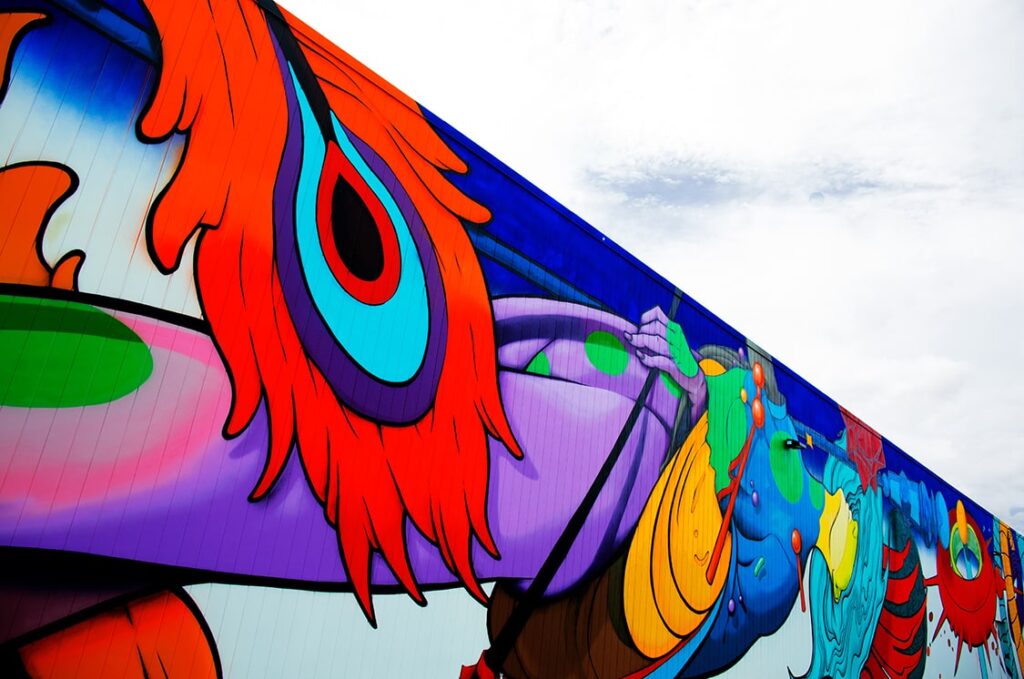 Take a stroll through ArtWalk and experience all 30,000 square feet of murals for yourself. SmartCentres has launched bi-weekly drive-in movies for the family; and it also added ArtWalk Street Eats, a daily selection of delicious food trucks guaranteed to satisfy everyone (and open late on movie nights). All ArtWalk activities will end on September 30, 2021.