Jp Castillo's Majestic Strength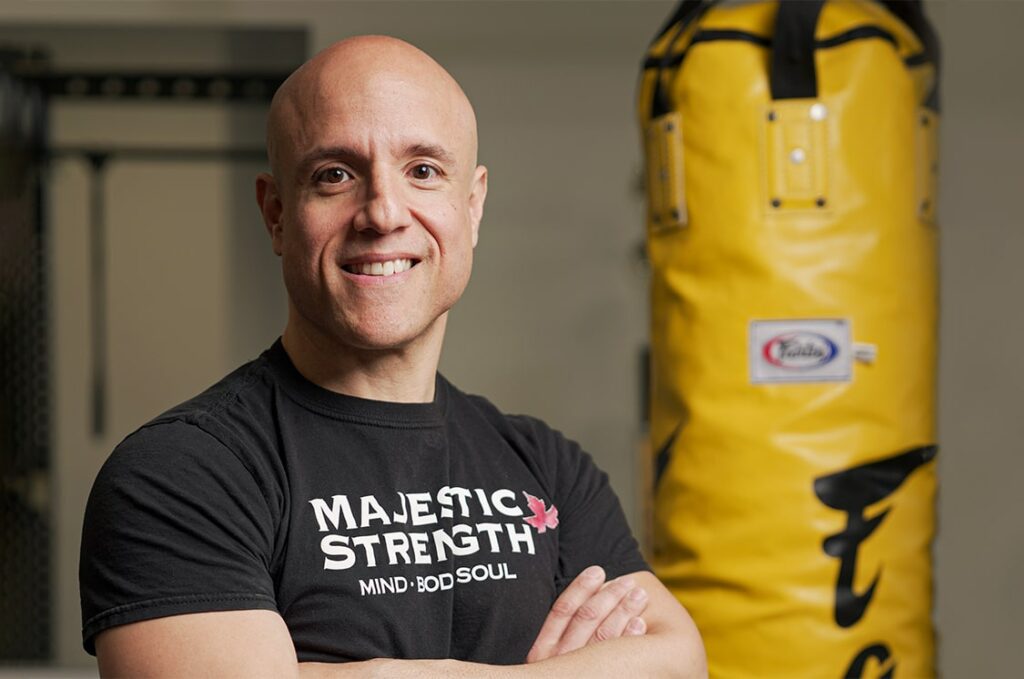 JP Castillo owns Majestic Strength, a specialty first-class personal training studio providing training for people from all walks of life. Whether you're elderly, a teenager, pregnant or an elite athlete, Castillo's individual training methods will change your life.
"My grandfather used to smoke like a chimney and drink like a fish," according to JP Castillo, the owner of the personal training gym Majestic Strength. Castillo says it was his grandfather who inspired him to live a life dedicated to fitness and ultimately start his own personal training company. When he was born, his grandfather had an epiphany that would change his and baby Castillo's life forever: Grandpa wanted to see his grandson grow up. "He was 52 at the time and he changed his life. He gave up drinking, smoking and started working out. He took charge of his health." Not only did Grandpa inspire Castillo, but he also taught him self-defence. "I was picked on every year in school. I moved around a lot. I was always the new kid." Through building strength and gaining confidence, Castillo has been able to navigate his life and develop a thriving business, which recently won a Vaughan Citizen Readers' Choice Award for best personal training.
Majestic Strength is located in old Woodbridge, Ont. It's a specialty first-class personal training studio providing one-on-one, partner and small group personal training. Training regimes are based on tailored prescriptions to fulfill a client's long- and short-term goals. Due to COVID-19, Majestic is also offering online training sessions. Castillo has been in the fitness business for more than 25 years, and during that time, he's had the opportunity to learn a wide variety of different types of training, including martial arts, body shaping techniques and fat loss.
For a while, Castillo worked at GoodLife Fitness and concurrently trained elite athletes. During this time, he was developing his own training philosophies for clients. "I started to blend my approach of what I'd use with my athletes and my average, everyday person." He began to notice a lot of similarities between the two populations. According to Castillo, people want to see results in an efficient manner, without any increased risk of injury. Athletes share the same goal. However, the foundation of Castillo's training is based on the mind, body and soul. He believes it's imperative clients train consistently, regardless of how they feel before a workout. "Even if you only feel 50 per cent and get the workout in, that's what counts." Castillo feels training at the highest intensity every day isn't good for any of his clients, even the elite athletes. It's the consistency which matters most.
Castillo's positive attitude toward training is infectious. "Whether you're a stay-at-home mom, a business executive, weekend warrior or a seasoned athlete, I bring the tools and motivational needs to help take your results to the next level."
Visit the Majestic Strength website, www.majesticstrength.com, to book personal training with JP Castillo.
29-281 Woodbridge Ave., Woodbridge, Ont.
@majesticstrength